Entertainment, Excitement, and Energy: Iceland Summit
For months and months leading up to our school trip to Iceland with EF Tours led by Tammy Marchini and John Neering, all fifteen of us students were consumed with anticipation. We did not all know each other, nor had we been to Iceland before, a combination that filled each and every one of us with excitement and nerves. Prior to the trip, we worked on projects and created videos which were entered into a contest. We were fortunate enough to have two students, Merritt Shelton '18 and Hannah Schmelkin '18, win the contest and a lunch with Dr. Steven Chu, the keynote speaker of the summit. The two day long summit was both challenging and engaging, as we were grouped with students from around the world in order to design an energy-efficient prototype of our choice. After we had the chance to look at everyone's projects, the winners were announced. In fact, Carly Binday '18  and her group won. Their project will be featured in the Nobel Prize Museum in Switzerland.  This experience was truly a once in a lifetime opportunity to bond with other high school students from other states and countries.
Although the summit was the reason we went to Iceland, we had the most fun touring the country. Right off the plane we went to the amazing Blue Lagoon, a hot bath with mineral rich water. We walked around Reykjavik, the capital of Iceland which was a great start to our trip! Everyday we got on the same tour bus and saw different parts of the country. Somedays we went to museums, while others we stopped at inactive volcanos and beautiful waterfalls. Our favorite day was when we went whale watching. We were on a relatively small boat and it was very rocky, windy, and cold but it was still great. Unfortunately, we did not see any whales (even though it was supposed to be guaranteed!) but we did see dolphins and that was really cool. The view of snow covered mountains against the deep blue water was unreal. The boat ride was long, and that is when our group came together and bonded as one, even if it was because our weak stomachs forced us to bond by leaning over the side together. We went fishing and almost all of us caught a fish. The boat guide killed and filleted the fish in front of us, and even let us try some, which definitely was an experience. After hours on the boat we finally made it back. It was a unique and fun experience that was the highlight of our trip!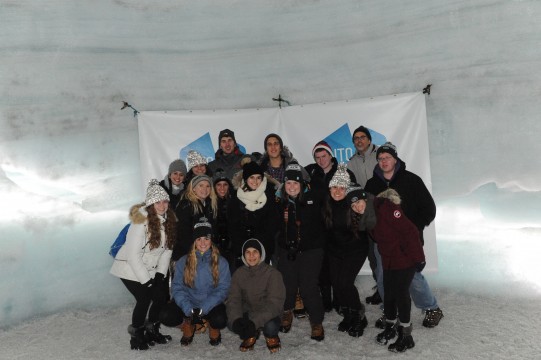 From night adventures to find ice-cream to yaking on a boat, we all feel this trip was truly a success! We were able to see all the beauty that Iceland has to offer, while learning so much about energy and the way Iceland uses it. The trip brought us closer, and we all have experiences that we will cherish for the rest of our lives.
By Hannah Spitzer and Olivia McKay