SHS Students Take Madrid
This past September, SHS students hosted students from Colegios Ramon y Cajol, a private school in Madrid, Spain. The students explored many tourist attractions and sights in New York while simultaneously building relationships with their respective exchange students. This past February break, the SHS students traveled to Madrid to complete the second part of the program, chaperoned by Dean Mitchell Thompson and SHS History Teacher Heather Waters. 
The students arrived in Madrid on Saturday, February 8th and met with their families to settle in at their homes. Throughout the 14-day exchange, the students went to school with their students in addition to going on excursions to Toledo, historic Madrid, El Escorial, and Segovia, cultural Madrid, and Cuenca. 
In Toledo, an ancient Spanish city, the students strolled the medieval streets and saw its landmarks, specifically the Jewish quarter, Alcazar fortress, Gothic cathedral, and the Monastery of San Juan de Los Reyes.
On the tour of historic Madrid, the students visited the Alcala Gate and the Plaza de España, along with visiting many museums and royal palaces, most notably including the Prado Museum and the Palacio Real. 
Subsequently, the students saw the palace monastery of El Escorial, a historic monument of Spain recognized for its immense size and sophisticated decorations. They continued on to ancient Segovia for a walking tour, seeing the palace of Alcazar and the Roman aqueduct.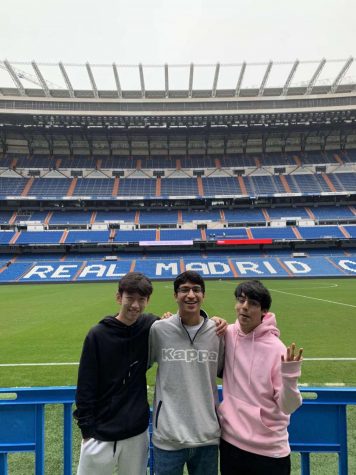 In cultural Madrid, the students went on a tour of Santiago Benabeu, one of the most notorious soccer stadiums in the world and home to Real Madrid. They entered the dressing rooms and saw the trophies won by Real Madrid. In addition, they strolled through Buen Retiro park and visited the Reina Sofia national museum of 20th-century art.
Finally, on their excursion to Cuenca, a town set in the mountains famous for its cobblestone streets and medieval castle ruins, the students saw famous houses on the edge of cliffs. Then, the students explored the Museo de Arte Abstracto Español.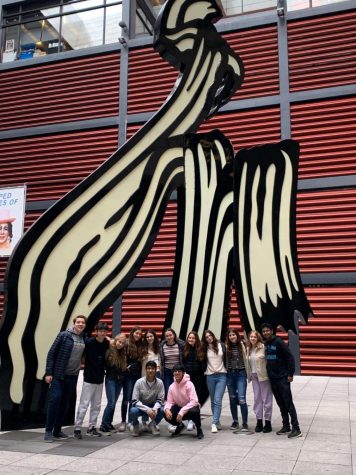 The SHS students found the educational environment to be very different in Madrid. There were apparent differences in the physical structure of the school as well as the student-teacher relationships. The school in Madrid is more specialized compared to SHS and gives students more freedom in the classes they want to pursue. "Their school has a very different energy. It runs on a system where you pick your pathway at the beginning of high school, giving you the opportunity to study science, math, humanities or art. It is definitely different and there is not as much stress, because you're not forced to take classes that you don't want to take," said Juliette Silk '22.
Also, SHS students found the relationships between the students and faculty to be very different compared to those at Scarsdale, and they noticed the students had a different attitude towards school. "Students don't take their classes seriously there – they joke around, they talk while the teacher is talking. It is an entirely different atmosphere in the classroom. Students show little or no respect for their teachers. The teachers and the students often swear back and forth at one another, there's no respect at all," remarked Kian Batiwalla '22.
Apart from having academic differences, the SHS students found the culture and lifestyle in Madrid to have significant differences compared to life in Scarsdale, let alone the United States. "First of all, everything there is so much happier. We look at life as a job, do your work, focus, after school activities and then maybe have fun on the weekends. Their lives are about having fun and living their lives to the fullest. The culture is just so different," reflected Batiwalla.
In addition, there are not many similarities in the diets of the Spaniards and Americans. The Spaniards consume a lot more bread and meat, although they eat very small portions compared to the large meals Americans tend to eat. Moreover, in Madrid it is common to eat lunch at around 3 PM in the afternoon and dinner at 10 PM at night, while people in the United States eat on an earlier schedule. 
In contrast, the students shared many similar pop culture interests. "I felt like [with] the girls who I talked to, we had a lot in common being from different countries—we all knew the same TV shows. We were able to have all of the pop culture items in common, talk about celebrity gossip, and go shopping together," described Silk.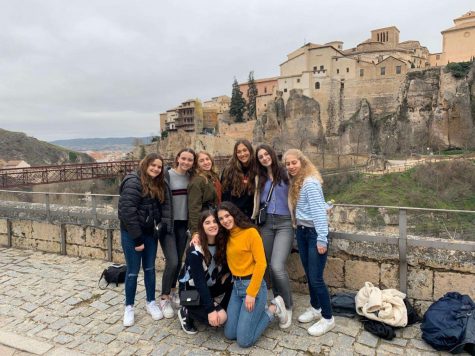 One of the purposes of the trip was for SHS students taking Spanish to enhance their speaking skills, as they predominantly spoke in Spanish. Repetition is key in mastering and improving orally in a language, and that was demonstrated on this exchange. "My Spanish was amazing while I was there. I think it's dropped off since being back home because I'm not speaking in Spanish as frequently or around Spanish speakers. Your accent automatically becomes better from speaking so much and you are more confident. Here, at school, we're more focused on getting our verbs right. Even there, students mess up their verbs and they don't care," explained Batiwalla.
After cumulatively spending over three weeks with these exchange students in both Scarsdale and Madrid, the students have developed lifelong connections and relationships. "I'm still in contact with all of the exchange students, we built such strong connections. We're probably going to have a reunion in the near future. I think these bonds are going to be great for me in the future. Who knows if I'll be in Spain again in the future and I can just call or email or text any of them to meet up. I think these connections will be really helpful in the future," noted Batiwalla.
Despite the two-week duration of the exchange in Madrid, the SHS students were introduced to a whole new lifestyle and given a remarkable opportunity of seeing a foreign place, as well as a foreign school. They were able to develop relationships with teenagers from the other side of the world, which will be of tremendous value when traveling in the future. "I discovered that although we have different ways of how we live our lives, we are more similar than we realize. We have things that all bond us together, even though we speak different languages. The fact that you can sit down and find a connection with people despite your lives being so different is awesome," reflected Silk.