About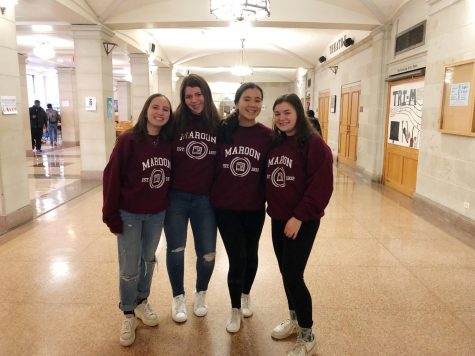 Maroon is Scarsdale High School's student-run news publication that aims to provide Scarsdale residents with current, relevant, and exciting news. Maroon has been published since 1933. Maroon recently (2016) transformed from a monthly newspaper to a quarterly glossy magazine. The website is updated daily. Scarsdale High School is located in Scarsdale, NY.
Contact us at [email protected]
Join Maroon
Maroon currently meets every Wednesday at 3:15 over Zoom.
To join, come to Cub Course! Cub Course includes three consecutive weeks (once a week) where our Managing Editors teach you everything to need to know about journalism.
Afterward, viola! You will be officially a part of Maroon. 
For more information, email [email protected]
The Staff
Editors-in-Chief: Leah Breakstone and Ariel Weinsaft
Managing Editors: Jake Lubin and Jenna Schwartz
News Editors: Jolie Kantor, Lilac Lin, and Samuel Siegel
Feature Editors: Sydney Piccoli, Ryan Siebold, and Samantha Wachs
Opinion Editors: Josh Bock and Natalie Schonfeld
Teacher Advisors: Kendra Claussen
Online Quote Check Policy
In print editions of the Maroon, assistant editors are typically assigned to verify the authenticity of quotes with those quoted in each article. On the Maroon website, our goal is to provide our online readers with access to current and intriguing relevant content including photos of school events, student blogs, and various other feature pieces regarding school issues, sports, sciences, arts and entertainment, and popular culture. In order to ensure this goal, Maroon has altered its Quote Check Policy to accommodate daily updates for articles published online only. For online articles, Maroon will no longer assign assistant editors to verify quotes with those quoted in each article. If those quoted are unsatisfied with the way their quote appears in the online article, they can address that concern by notifying our staff at [email protected] and requesting a change.
Opinion Article Policy
Opinions expressed in staff editorials reflect the majority view of Maroon staff. Editorials do not reflect the views of Scarsdale High School School, its administration, or its staff. Op-ed pieces reflect the opinions of individual writers.
We encourage letters and op-ed contributions from the wider Scarsdale community. To submit a piece for consideration for publication, please email it to [email protected] We reserve the right to edit submitted pieces for clarity, length, spelling, and grammar.