Explorando España: Exchange Trip to Spain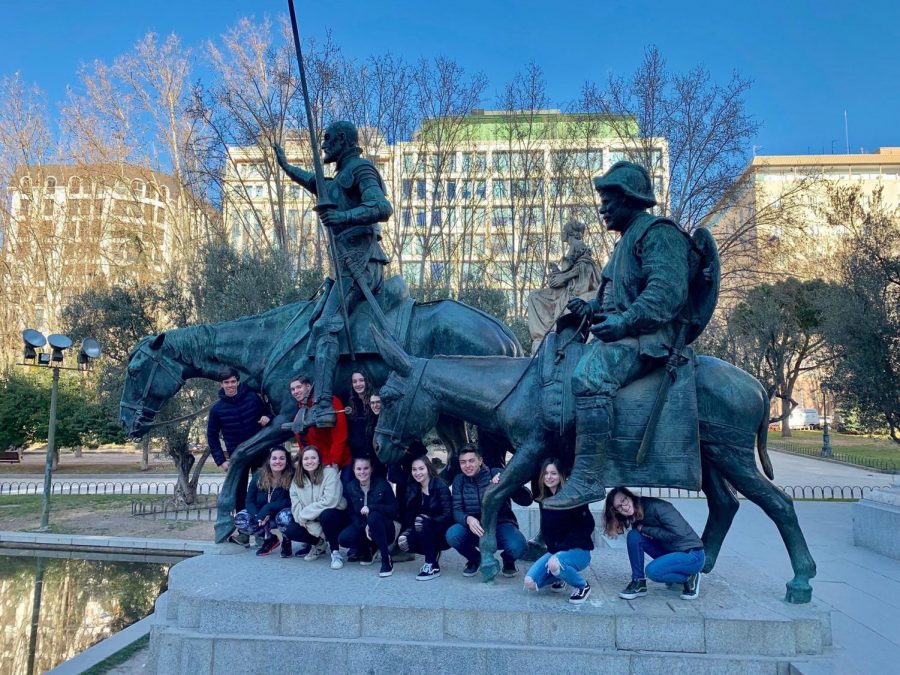 Madrid, Toledo, Segovia, Cuenca—over the course of two weeks on the second half of their Spanish exchange experience, a group of Scarsdale students explored these Spanish cities and everything in between. Accompanied by SHS Special Education Teacher Vincent Modafferi and SHS Dean Mitchell Thompson, students lived in Madrid, in the homes of Spanish students who had bonded with their Scarsdale partners last November when they came to the US. "The [student's] family really tries to invite you in and make you a part of their family for two weeks. They were really nice," commented Helen Marino '20.
For the first few days, each student followed their host family around Madrid, joining their daily routines. Later, the Americans regrouped to explore the city, visiting renowned museums including the Museo del Prado and the Museo Reina Sofia. Students saw world-famous works by the Spanish greats—El Greco, Velazquez, and Goya, among others. The group also toured several historically significant spots in Madrid, including the sprawling Royal Palace and other  monuments around the city.
SHS students also spent three days attending school in Madrid. "It was super different and that was fun to see. The walls are made of glass so you can see into every classroom and your own classroom. You're on these chairs that have wheels so everyone's like moving around the room throughout class. It's really weird and it's so different from here that I think everyone started to appreciate the fact that we go to such a traditional school," said Marino.
The students also explored Old Madrid with help from a tour guide named David. In one particularly memorable moment, he led them to the tucked-away location of the famous cloistered nuns and cookies. "There were these nuns, but they were never seen by any other person. They always stayed inside, locked. We rang the doorbell, and it was a normal door. We were like, 'queremos galletas'. Then we go inside, we go through this corridor, and at the end, there's a round desk and there's a wall. You put the money, they put the cookie and it rotates and you get the cookie. But you never see the person!" exclaimed Gustavo Quaresma de Moura '21. In addition to the cookies, he also fell in love with other Spanish novelties, many prepared as meals by his host family. "My favorite one was torreznos. It's like a bacon but it's fat and tall. It's really good. We also ate cochinillo—roasted pork. They cut it with a plate to show that it's really soft, and then they throw the plate on the ground," explained Moura.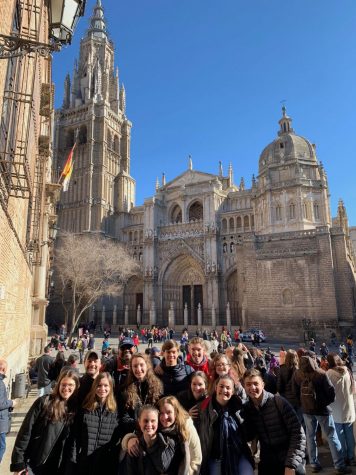 Through full-day excursions, the exchange students spent time in other Spanish cities. While touring Toledo, students experienced the interesting mixture of Muslim-Jewish culture, along with visiting the grand Primate Cathedral of Saint Mary. In Segovia, the group admired the waterways and the Gothic-style Segovia Cathedral. Finally, in Cuenca, students saw a modern art museum, in addition to the hanging houses, a neighborhood perched seemingly precariously on the edges of the surrounding cliffs.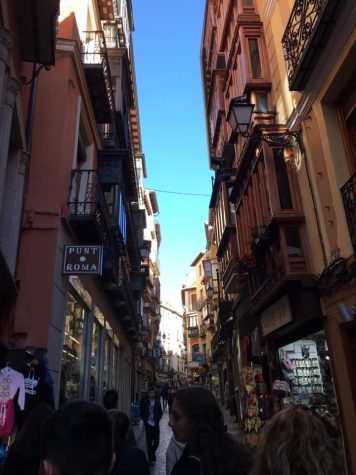 Throughout the trip, students learned to live with Spanish customs. "[My exchange] family's habits were very different from American habits. Spaniards have lunch at 4pm and dinner at 10pm. So we would come home for lunch sometimes to have two hours to just have a really big meal in the middle of the day. And oftentimes I didn't even make it down to dinner because I was so exhausted from the day, and dinner would be at 11pm," said Marino. In addition to differences in eating patterns, students faced the challenge of communicating through a language barrier. "There were some people that were really trying their hardest to speak spanish to people, and there were others that were so lost. It was just amusing to see how other people do in foreign situations," said Marino.
Even though the trip had some mishaps,  the students enjoyed it overall."What didn't go too well for us was that all of us got sick really quickly. But despite being sick, I think all of us had a great time. Even if we were under the weather, we just all came together and really enjoyed our time," reflected Marino on the overall trip. The students returned home with new appreciations of the Spanish language and culture, and great memories with their peers and Spanish friends. "I know Madrid better than Javi now," joked Moura, referencing his exchange partner.