The French Club Brings Mardi Gras to SHS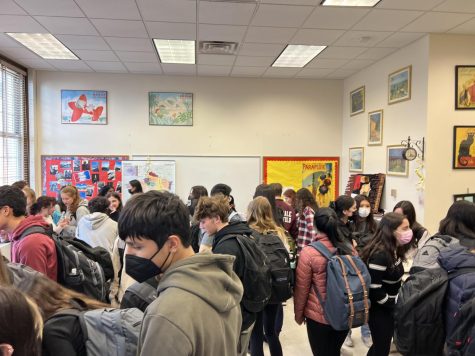 Every year, New Orleans celebrates Mardi Gras, a carnival celebration that culminates on the day before Ash Wednesday. These celebrations have been going on for centuries and can be traced back to French roots. Mardi Gras is French for "Fat Tuesday," symbolic of the practice of indulging in rich, fatty foods prior to the start of Lent. When the French settlers moved onto the land now known as New Orleans, they brought these traditions with them and the celebration has only grown since. This festival is typically celebrated with huge parades filled with traditional New Orleans foods such as beignets, gumbo, and jambalaya, along with many people dressed up in masks and beads.
Mardi Gras took place at the beginning of March, and to celebrate the French roots in Mardi Gras, the high school's French Club hosted a Mardi Gras party. The event consisted of mask decorating, which was followed by a photoshoot and delicious Mardi Gras-decorated cookies. "Many people came to the event and everyone had fun decorating and wearing their masks," said Matthew Tardif '23. "My favorite part of the event was seeing how spirited and excited everyone was to be celebrating Mardi Gras, it really made me want to experience the real event," Lizzie Duignan '24 added. This event was the perfect way to cap off a week of school and a great start to the weekend. It was also a great way to incorporate French culture into the community!