SHS Goes Global (Via Zoom)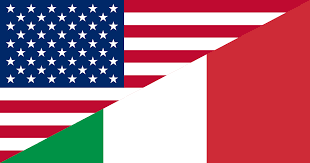 With SHS global opportunities, for the most part, postponed and even canceled in light of the coronavirus pandemic, Scarsdale High School students might feel like they are missing out on the learning experience that travels and exchanges provide. While, of course, there are learning and cultural experiences lost due to at-home orders and travel restrictions felt in New York and across the world, there are silver linings to be found in attending classes online. For SHS Social Studies Teacher and Global Opportunities Coordinator Heather Waters' AT U.S. History class, lack of in-person contact didn't halt them from participation in conversation and collaboration with students from around the globe.
For two of their Zoom classes in late May, Waters' class spent time with students from the Uccellis school, located in Udine, Italy. The students that the SHS history class spoke to attend one of Scarsdale's exchange partner schools; SHS students haven't been in contact with them before but are planning to meet the students they spoke with in-person through an exchange in the future.
Extending long past their short twenty-five-minute Zoom class due to the engaging conversation that was cultivated between the students, topics ranging from quarantining experiences to politics were covered."We were able to see how similar we are and the experiences we are going through during the pandemic even though we live in different countries," reflected Anya Kornfeld '21.
It quickly became apparent that Scarsdale students' anguish with regards to being shut in their houses with their families isn't something uniquely felt by Americans during this time – the Italian students feel similarly. The teens living on both sides of the Atlantic Ocean agree that come summer, they hope to move towards a less restricted and confined sense of normalcy.
"They were super engaged and truly interested in our school's response to COVID-19," recalled Clara Weller '21. Both schools experienced a cancellation in their senior graduations and proms, and both schools agreed that their educational experiences have changed drastically during these unprecedented times, especially in terms of their motivation level and approach to learning.
Shifting to a deep discussion of patriotic sentiments and impressions of America's political climate during this unprecedented time, Scarsdale students asked the Uccellis students for their opinions' on America and its federal government. The Italian students approached the subject extremely respectfully and admirably, even likening U.S. President Donald Trump to one of their rather embarrassing politicians.
All in all, engaging in Zoom classes with students from Italy, whose nation's response to the coronavirus pandemic is both similar and different to America's, was truly "eye-opening", Kornfeld analyzed. The global opportunity left Waters' students with worldlier and changed perspectives. On his takeaways, Jacob Rosewater '21 concluded, "it helped me better understand my connection to people all around the world," even despite current physical limitations.