Serving Up a New Era of Tennis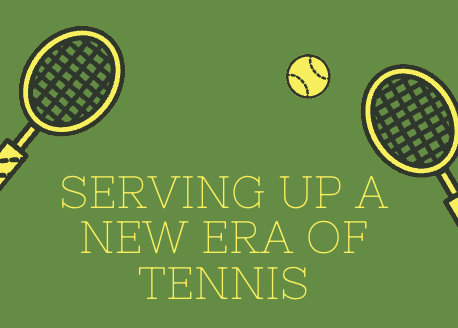 This past season of tennis majors has been a transformative one for the sport as the household names that have become synonymous with the sport evolve, giving way to a changing of the guard for professional tennis that is not only younger but also more diverse.
Since Roger Federer hit the professional circuit in 1998, he has been a dominant force for over two decades. The Swiss Maestro, as he's been adoringly dubbed, has been the face of the sport during its most celebrated era. Widely considered the greatest male player of all time, Federer holds many of tennis' all-time records and has been a pioneer of the game. With his silky-smooth play-style, iconic one-handed backhand, and masterful, dynamic yet delicate touch, Federer stands alone with the most ATP wins and titles. At the 2018 Australian Open, he became the first male to ever win 20 Grand Slams, only recently to have been overtaken by Novak Djokovic and Rafael Nadal. On September 15th, Roger Federer announced that he would retire from professional tennis following this year's Laver Cup. Following a disappointing loss by teammates Federer-Nadal in their doubles match at the Laver Club played on September 23rd, Federer surprised the world of tennis by announcing his decision to play once again in next year's Laver Cup. Like a true champion, he wanted to cement his legacy by going out on a high note. Fans will be sure to watch what will hopefully be a more satisfying end to his storied career. 
In addition, after hardly playing in the past two years due to the birth of her daughter and injury, Serena Williams returned to the spotlight at the U.S. Open earlier this month, revealing that her appearance there would be her last major tournament. Bursting onto the professional scene in 1995 at only 14 years old, Williams has gone on to become one of the most iconic tennis players in history, with her aggressive play-style leading her to win 23 Grand Slams, amongst numerous other accolades. By winning her first US Open in 1999, 17-year-old Serena became the second African-American woman to ever win a grand slam. Her groundbreaking, captivating life story has been documented in Hollywood blockbusters such as King Richard, depicting the adversity that she faced as a child and how her perseverance and love of the sport propelled her to sports stardom. While there have been other female tennis players who have equally dominated on the court in her extraordinary career, spanning across four decades, Serena has beaten all the odds and uniquely inspired a generation of aspiring athletes and young people everywhere, deservedly earning her the title of "GOAT" – Greatest of All Time.
Federer and Williams' retirements, along with Nadal's defeat in the 4th round at the U.S. Open, and Djokovic's absence from many competitions due to his stance on Covid vaccinations, represent the coming to an end of an era of unprecedented dominance and influence, for over two decades, by this select group of tennis icons. Fortunately, with many up-and-coming bright stars, the future of the sport is in good hands for many years to come.
This year's U.S. Open truly was a historic event, showcasing the tremendous progress that tennis has made in recent years.  Although initially high TV ratings for the tournament were chalked up to fans rooting Serena Williams on throughout her last dance, even after she was eliminated by Australian Ajla Tomjanović in a thrilling, hard-fought conclusion to the champion's career that reminded fans of why they fell in love with her in the first place, viewership remained high with over a million people watching subsequent matches on average. This can be attributed to fans' genuine excitement by the talented roster of new stars.
Tunisian, Ons Jabeur, known for her power and never-give-up attitude, became the first African and Arab woman to make a U.S. open final, after becoming the first to make any grand-slam final at Wimbledon two months earlier. In the final, she lost to Pole, Iga Swiatek in straight sets, but reclaimed the women's world number two ranking in the process. Jabeur serves as an important role model and representative for an underrepresented community of tennis players.
Francis Tiafoe, served his way into the semi-finals, taking down Rafael Nadal, the winningest Grand Slam player in history, while in the process capturing the hearts and imaginations of fans everywhere.  Tiafoe, the first American to make the tournament's men's semi-finals since 2005, was also the first African American man to do so in 50 years.  This fan favorite, even when he lost, did so playing his heart out, coming back from a 3-0 deficit in the fourth set to force an intense fifth set where he lost to eventual champion, Carlos Alcaraz.  At only 24 years of age, Tiafoe is the future of American men's tennis and will be a force to be reckoned with for the foreseeable future.
Despite having the skill, poise, and touch of many of the all-time great tennis players, 19-year-old Carlos Alcaraz, until this past season, still had many unanswered questions.  This U.S. Open was the young Spaniard's coming-of-age party, where he dispelled any concerns that doubters held. En-route to the title, he battled against many of the other top-ranked youngsters in the world and played three consecutive 5-set, 4+ hour matches before even reaching the finals, including a match that went until nearly three in the morning. Through all this adversity, Alcaraz proved his stardom as he emerged victorious, taking the top prize by topping 23-year-old Nord, Casper Ruud, to become the youngest U.S. Open winner since 1990 and the youngest player to ever be ranked number one in the world, securing his anointment as the future of the game and as the man to beat for this next generation of tennis players. And, despite his loss in the finals, Casper Ruud claimed the number two men's spot in the world, creating the youngest 1-2 pairing in tennis history.
As a historic era in professional tennis, dominated by an enduring handful of game-changing players, whose highlight clips will be shown for generations to come, is slowly coming to an end, the future of the sport is already here and it is bright. Martin Blackman, head of player development for the USTA, said in a recent interview that tennis "is not the traditional insider sport it used to be." Today's up-and-coming superstars are already securing their places and are poised to take the sport to new heights, as well as expand the sport's reach and popularity. Based on the extreme level of talent we've already seen, fans are in for many more years of excitement as we watch the next generation of players smash it!