NH44: Full of Flavor and Fluorescents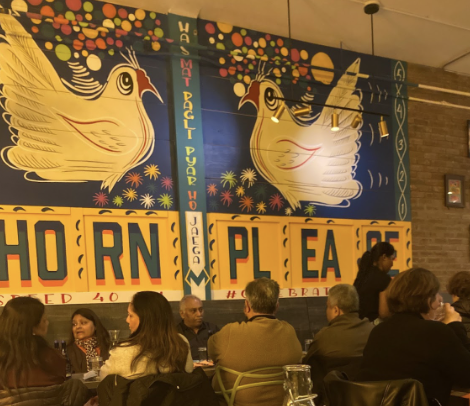 The town of Hartsdale, consisting of the short strip on Hartsdale Avenue next to the train station, has always made for a fun outing. It has a Rite-Aid, good eats, and delicious desserts. Over the past few years, some of the best places like Peachwave and Starbucks have closed, leaving behind empty storefronts. With the opening of NH44, community, vibrance, and diversity are reemerging in Hartsdale, returning it to the thriving food scene it once was
NH44 is the name of the brand-new Indian restaurant situated near the train station. Named after the biggest highway in India, this establishment uses traditional flavors and modern decor to make for a unique and enjoyable dining experience. The multicolored interior makes for an adventurous meal and compared to the concrete street outside and Dunkin Donuts next door, it has a refreshing and vibrant feel. The bright lighting sets a good mood, brings Instagram potential, and makes people appreciate the food about to be eaten. When a meal arrives, it's served on cool dishware, painted in vivid blues and greens. The food itself lets off a mouthwatering aroma and tastes just as rich as it appears. The large menu with a variety of dishes to choose from contains everything from delicious starters, like samosas or aloo tikki, to a lengthy list of main course dishes with meat, seafood, or vegan options. For those with a low spice tolerance, it even details which items are most spicy. Whatever is ordered, it's sure to taste delectable.  
In just the first few weeks of being an open establishment, NH44 has drawn quite a crowd, with a line out the door during most of their open hours. An Indian restaurant was something certainly missing from the area. It's possible they need more tables, however, the ones they do have are accompanied by orange and green-hued chairs and booths of utmost comfort. The only complaint was that the music consisted solely of modern techno, and led to a lot of undesired pounding in the ears. The electro-styled music mismatched the atmosphere of the restaurant and didn't make for the most pleasurable eating experience. 
NH44 is exactly what was needed on Hartsdale Avenue. Its ambiance, food, and the business it brings are a sure step towards restoring the former, lively vibe of the block.