Springtime Staples
I like winter. Sure, I love a laid back summer afternoon as much as the next gal, but I really didn't mind these past few months of cold. Maybe I'm secretly an eskimo, but I'm actually a bit sad that winter has come to a close. Gone are the days of coziness; sleeping in thanks to a call from Linda Purvis, lounging inside watching movies, wearing warm chunky sweaters, with a fresh blanket of snow on the ground. And the layering! Yes the layering. In summer, dressing gets generally less exciting for me than when it's cold. Eventually I find myself falling into a rut of some sort of shorts and t shirt variation (with the exception of sundresses), which to me at least can be less fun than the season of cable knit scarves, corduroys, and ankle boots.
The worst though, is transition weather. You know, when it's not quite cold, but still not hot, and it's just this awkward in-between stage. It's like mother nature's way of saying "Eh, I need a break from all the snow and I'm not ready for heat, so let's have this random assortment for the next few weeks". Take a day when it's around 60 degrees and some sun peaking out of the clouds. What's a girl to wear? Bare legs would be too forward, but it's too warm to don a winter sweater.
Enter some classic staples like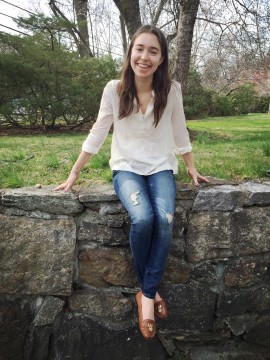 medium wash jeans, and a cream lightweight blouse. Simple pieces like this have become my go tos lately: they're light enough to wear on warmer days but can also be added onto when it's windy. I'm also a sucker for cute details, and both pieces had me hooked upon closer inspection. These jeans had me obsessing when I noticed the subtle distressing by the knees and the almost ombré effect from the lightness of the mid thigh to the darker denim around the ankle. I also love the lace detailing on this blouse and its almost transparent sleeves. They make the top perfect for rolling up, giving it what I call the "artful wrinkle", making it seem so effortless and playful. Madewell always gets it right.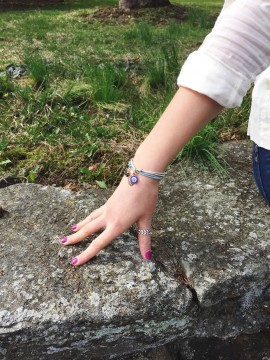 This weather though has me thinking a lot about travelling-specifically to somewhere hot and desertlike. I've been channeling this urge with my outfits too, like these bracelets from past trips to California and London. It could be that I went to Arizona for Spring Break or that I'm counting down until I can go to Israel on Birthright, but I've been longing for somewhere dry where humidity is not an issue, and you can imagine my excitement when I discovered the playlist called "desert sunset" on the music app Songza a few weeks ago. But I think what's had me longing for the desert, in addition to the beauty that's so drastically different from Scarsdale, is that lightweight pieces to survive the warm days and cooler nights are essential. That is, transition weather dressing is actually encouraged.