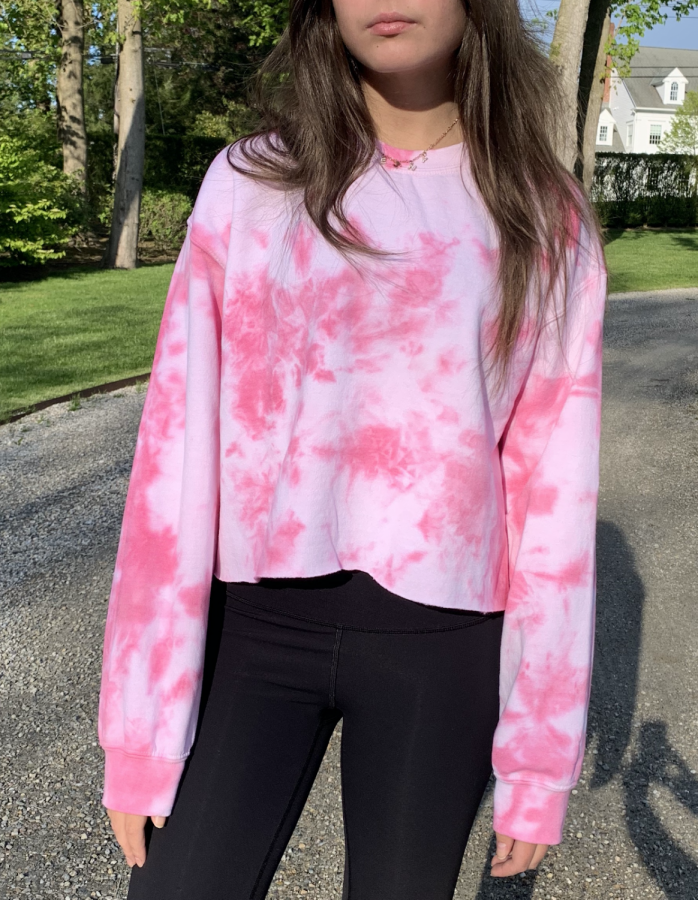 Maroon Couture: How To Tie-Dye
June 1, 2020
During the current lockdown, people have undoubtedly been dressing in loungewear most of the time. One of the latest trends is tie-dye, especially for sweats. Here is a simple "how-to" for those of you that want to take an old sweatshirt, sweatpants or t-shirt and give it new life :
What you'll need:
Empty water bottle

Garbage bags

Latex or rubber gloves

RIT All-purpose dye

Paper towels

One or two buckets

White or light-colored garment
Step 1
Start with the white or light-colored garment you'd like to dye. Protect the area you'll be working on with a large plastic garbage bag (I like to do it outside). Also, wear gloves to protect your hands as the dye will stain. You can use paper towels or buckets to absorb some of the excess dye.
Step 2
Dilute the dye by filling a water bottle about halfway with water and then add about one-quarter of that amount of dye to the bottle. Shake thoroughly for around a minute. The level of color saturation you want will determine how much water to dilute it with. If you'd like more intense colors, use less water and if you want lighter colors, use more. For the first time, you can start with this 2:1 ratio, and then you can experiment during future attempts. (** Don't mix the water with the dye until you're ready to use it. Do not use the mixture after 24 hours as it will start to lose concentration).
Step 3
Twist the garment and add rubber bands randomly or make a pattern if you'd like to experiment (ie. a linear pattern).
Step 4
Soak the garment in a bucket of water right before dying.
Step 5
Apply the dye mixture directly onto the fabric in multiple areas and make sure your dye is penetrating all the layers. Be careful not to oversaturate and leave areas white so it makes an interesting pattern. At this point, you can also add a second color in the white areas if you wish.
Step 6
Let it sit for 24 hours for the best color intensity. Then remove all the rubber bands and wash the garment in cold water, using the highest water level setting and some detergent. Dry your garment on the hot setting.
Step 7
Now you're ready to wear your garment! I chose to crop off the bottom of my sweatshirt as shown in the after picture.