Where Did the Zipper Go?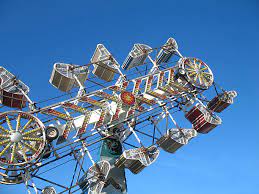 The beloved and feared carnival ride "The Zipper" has long been the dare-devilish ride of the annual Scarsdale High School Carnival. Locked in individual cages, pairs of carnival-goers swing uncontrollably while simultaneously rotating around the center strip that also spins itself. Invented in 1968, its chaos and experience of high G force have thrilled teens across the country for decades. Children boast of riding it and try to tempt their friends into joining, but this year, the infamous "Zipper" was missing. 
In 1977, The U.S. Consumer Product Safety Commission (CPSC) issued an urgent warning advising consumers to avoid riding on the "Zipper" amusement ride due to multiple fatal accidents where the cage doors became loose mid-ride and sent riders falling to the ground. Four deaths resulted from the door security issue, and even after the updated lock was enforced, another incident occurred in 2006 when two girls were flung out and severely injured. Not until recently has the lock model been redesigned. And yet, the "Zipper" has been at Scarsdale's carnival for years. So why now is the ride missing?
Of course, it is unknown whether the ride has vanished forever from Scarsdale's annual April carnival because of some fatal accident similar to those reported to the CPSC, but there are countless theories circling among SHS students explaining the ride's absence. "My brother heard that there were 10 deaths a few years ago," reported Katie Han '23. "I heard every year little kids bang their heads and start bleeding," recalled Finn Miller '25. "My friend saw someone on the ride throw up while it was running and roll around in it," shared Sammy Hoexter '23. 
It is impossible to know which, if any, of these rumors are true, but it is entertaining to fabricate and debunk these various stories and poke fun at the vanishing "Zipper."