Virtual Events? Global Connections? Count Me In!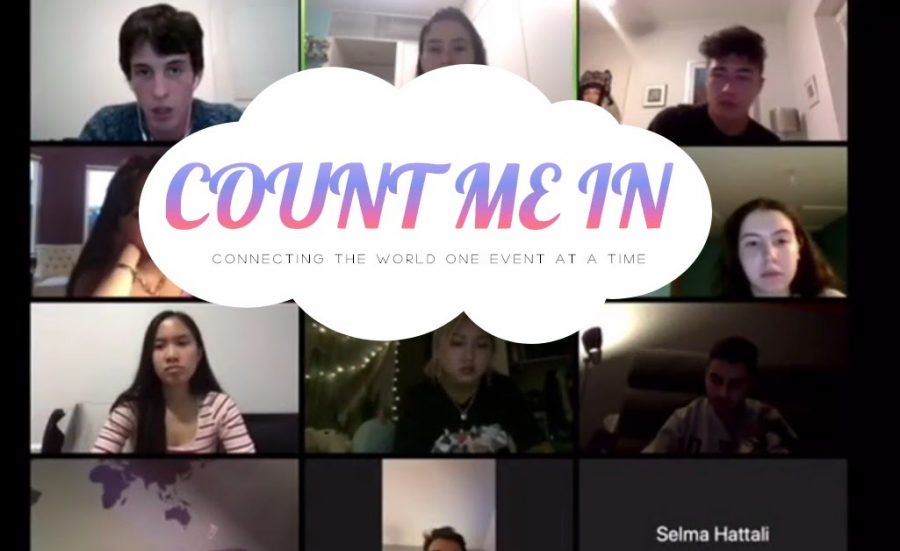 School is out, and a lot of us have no idea what to do over the summer. You could binge-watch your favorite shows on Netflix for the entire summer, or you could attend virtual interactive events with people all over the world.
Count Me In is a global platform where people can explore ideas, culture, and more. It's an environment to interact with others regardless of your location. With over one hundred different events per week, including topics such as language, games, cooking, current events, and philosophy, people are sure to find one that interests them. As a bonus, anyone can host or attend an event for free.
"Count Me In was started by my best friend Ali Debow, who was my classmate at my elementary school in Hong Kong," said Sophie Hu, '20, operations manager. "I am proud to be able to say that I have been a part of Count Me In since the beginning. I joined in March of 2020 when I had just found out that SHS would be online because of the coronavirus." Like most people, Hu had extra time, so when she was asked to join Count Me In, she excitedly agreed. Together, Debow, Hu, and one other person built the business from the ground up. 
"The idea of Count Me In first came back in August of 2019 when I wanted to create an app where people could meet online before an event and then plan to attend that event together, avoiding that dilemma of not wanting to go to an event just because you had no one to go with," said Ali Debow, Hong Kong International School '20 and founder of Count Me In. She had been trying to develop her platform for months, but something seemed to be missing. When COVID-19 took off in March, Debow realized that her initial plan for Count Me In wouldn't be practical. Instead, she began experimenting with virtual events. Her new idea ended up being greater than the original, and it was able to connect more people.
Debow didn't want to host massive live streams or webinars where people weren't really participating in the event. Instead, she wanted people to be able to engage with each other and connect in real-time. She started out by hosting small events with her friends, but after reaching out to different communities such as students attending NYU Shanghai in the upcoming fall, Count Me In began to expand across the world. Thousands of people from all over the world currently attend Count Me In's virtual events on Zoom.
"I don't even know if I can put in words how grateful I am to be a part of Count Me In. It has given my quarantine a sense of purpose. Most importantly, I have made friends with some of the most amazing people from around the world. It's remarkable that I can currently say that I have people I talk to every day from numerous states in the US, countries in Latin America, and different continents in the other half of the world," exclaimed Hu. Being able to meet and make friends with people from dozens of different countries is exciting, and Count Me In is a great platform for users to interact with each other. "The people are what make Count Me In such a unique platform, one that I am incredibly passionate about," continued Hu.
Count Me In recently hit a big milestone, which was connecting 100 hosts, 2000 users, and 300 cities from over 80 countries. Debow and Hu are currently working on creating more fun projects and expanding the platform even further globally while retaining each event's sense of intimacy. 
"Even if this incredible adventure ended today, I am proud to say that I would have fulfilled my mission—my purpose—of creating a community full of connection, learning, and good vibes," concluded Debow.
For more information or to sign up for an event, visit Count Me In's Instagram @countmeinofficial or check out their newly launched website at https://www.countmein.info