The Real Gold of the West Coast: Acai Bowls
Lizzie Leboyer
August 27, 2015
What would you say is the standard breakfast of the East Coast? Maybe, living right outside the city, the New Yorker inside of  you would say the classic bagel (#baegel?) and cream cheese or some sort of pastry à la Audrey Hepburn during Breakfast at Tiffany's. Coffee, not optional. Or maybe you'd picture a hot plate of good ol' American pancakes, piled high with syrup and the works. Even down South has their signatures, like grits, biscuits, gravy, et cetera.  Whatever the case, we all definitely have our go-to meal in the morning. I think my favorite type  of breakfast, though, are those of the West Coast–the acai bowl, to be specific.
This past summer, I was amazed by the options in Hawaii and also California. I found myself getting acai bowls whenever possible. In Maui, the warm tropical climates make the fruit out of this world (I'll never look at pineapple or papaya at home the same way), and coupled with the locals' attention to health, you'd understand how a juice and smoothie bar are almost always within reach. This was even more the case in California. In West Hollywood, it's practically impossible to walk down the street without seeing at least three large signs advertising smoothies, juices, and of course, acai bowls! All kinds too, from the traditional berry-banana duo to bowls blended with superfoods like kale and spirulina; the sort of froyo of LA. Every place even has its own bowl and presentation with toppings and drizzles galore.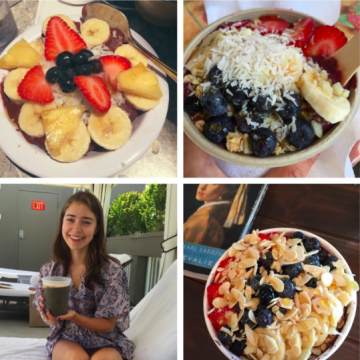 (clockwise from top left: acai bowls in Waikiki, Maui, and West Hollywood)
Acai Breakdown
So what even is this acai!? Well, while it is adored by the tropics and can be found in New York, the acai berry is actually indigenous to Brazil, the real leaders of the acai bowl. You've probably also seen/had Brookstone chocolate covered acai berries, and know that these dark purple beauties pack a mean punch in terms of nutrients and flavor. With more antioxidants than blueberries and strawberries, acai can improve overall heart and skin health. Acai can also help reduce irritation and improve digestion, all while fighting free radicals, boosting circulation, and being super fun to pronounce (it's ahhh-sigh-eee by the way). The most convenient way to utilize acai is frozen blocks of acai, that you can easily find at supermarkets like Balducci's. Go for the original unsweetened packs from Sambazon, they make the best breakfast bowls.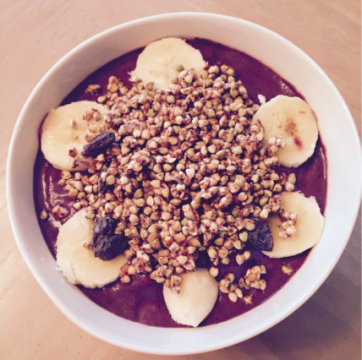 And now, onto the recipe:
2 frozen packs of unsweetened acai
1 ripe banana
⅓ cup of frozen blueberries, optional
4 oz of almond milk
Optional add ons: a spoonful of honey, your favorite nut butter, protein powder, cacao powder, chia seeds, and so on.
Directions:
First start by taking out the acai packs and running them under water to open them. Then chop into pieces and put into your blender.

Then add the remaining ingredients and blend. If your blender isn't very strong, you may need to stop every once in a while to stir. Keep doing this until the acai chunks are all gone and you're left with a creamy bowl of goodness.

Spoon the acai into a bowl and layer with your favorite toppings, like shredded coconut, bananas, berries, and granola.

Dive in and feel like a West Coaster!
Acai Endeavors:
Taking a cue from the west, acai bowls seem to be popping up in more and more locations in Manhattan. Some of my favorite places to get one are Juice Generation, Dimes, and Two Hands–but I'm getting ahead of myself! Stay tuned for a review post next week!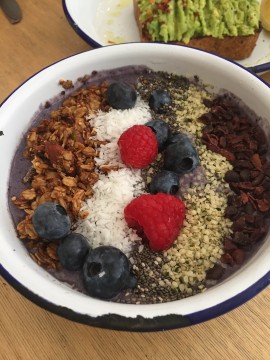 By Lizzie Leboyer