The Inside Scoop on SHS's Restart Plan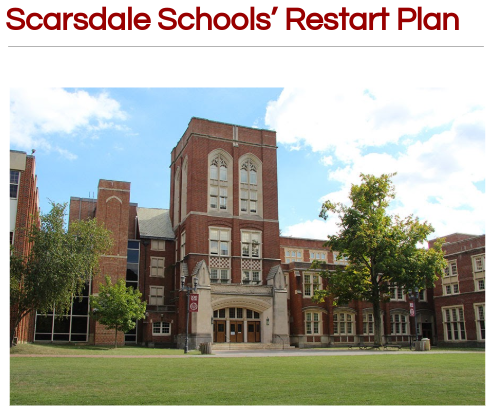 Rishika Bansal
September 2, 2020
When school first went virtual in March, I was excited – a couple of weeks off from school sounded great. But as the weeks turned to months in virtual learning, that excitement turned to uncertainty. I missed seeing my friends every day and hearing laughter and shouting in the hallways. I wanted to go back to "normal". 
In late May, the SHS Restart Committee met for the first time to take on the complex and daunting challenge of opening the high school again in the fall. I am one of two students (along with SHS Student Body President Michael Waxman) on the committee. Our task? To create the best possible restart plan for each scenario (remote and hybrid). To get started, we contemplated questions and challenges such as: How can we group students? What schedule will work best? What happens during lunch? How can we use technology? How can we accommodate kids who can't come to school?
But as the list of challenges grew and the number of things to consider quadrupled, one thing became abundantly clear: no matter how we went back to school in the fall, it would not be "normal". No situation was ideal and every situation required compromise, patience, and understanding. It felt overwhelming and entirely too unsettling – there were so many possibilities that I just didn't want to accept (things like staying in the same classroom all day with the same group of people to limit exposure). 
In order to focus our attention, we answered questions that would become the foundation of every tough decision to come: What did we most want to preserve? What aspects of school should we prioritize? Most students I reached out to said they'd prioritize having the freedom to choose their courses (rather than spend more time in school and be forced to take certain classes). The understanding that health and safety are of the utmost importance, followed by social and emotional well-being, both of which are necessary to create meaningful learning opportunities, also guided our work. We spent countless weeks using these principles (and state guidance) to find solutions to the problems presented in both the remote and hybrid scenarios – oftentimes, we'd spend hours brainstorming and debating different ideas in order to find the most advantageous one.
When part of the preliminary plan to make the high school remote was shared prematurely, it was sad to see so much anger and outrage in our community. As a community, we reacted so quickly (although with understandable and genuine concern) that the full plan, which was still being crafted and would have provided in-person opportunities, never even came to light. But through listening to the community (an undoubtedly positive effect), the district decided to move forward with a hybrid model for everyone. 
With the decision made, we worked for hours to create different iterations of possible schedules, trying to find the one that solved the most problems and considered the needs of both students and teachers. At the same time, we focused on improving remote learning using student and parent input from the spring, creating a plan that better suits our community.
Fast forward to today, and I'm worried about opening school in a few weeks, but the nature of a pandemic doesn't cater itself to a perfect solution. Although many of those questions from the start have been answered, this will only work if everyone follows safety procedures, not only to keep our community safe but also to keep the school running in a hybrid model.
It's still hard to accept everything that has and will continue to change. Going to school in a COVID world will be difficult – students are forced to adapt to this new mode of learning, teachers have to teach in ways they've never taught before, and administrators are burdened with the task of making sure everything runs smoothly and everyone is safe. But this is our new reality, and I'm hopeful we can make it work.