The Bûche de Noël Contest Bonds SHS over Love of French Culture and Cake
Drawn in by the delicious smell of freshly baked cake, many entered the Learning Commons after school on Friday, December 16th, with watering mouths. What they found did not disappoint. The room was filled with dozens of people whose laughter, excitement, and holiday cheer brought a smile to all faces. At the center of it all were several containers, all of which were being eyed by many. Those curious as to what was hidden inside the mysterious boxes did not have to wait long before people began removing lids and pulling back tin foil to reveal an impressive array of beautifully-decorated cakes.
Traditionally made for Christmas in France, the delectable cakes, called Bûche de Noël, otherwise known as Yule logs, usually consist of sponge cake and buttercream roulade rolled into a log shape. At SHS, the Bûche de Noël contest has been hosted annually by the French Club for the past ten years. The contest was initiated by Madame Bell, the now-retired French Club advisor, as a way to have some French-related fun before the holidays. Every year,  students can bake their cakes at home in groups of 2 to 4 people and bring them to school, where a group of judges, usually teachers at SHS, will critique the cakes based on their flavor, appearance, and French theme. Luckily for the many viewers who had to suffer while watching the judges critique the Bûche de Noël, their patience was rewarded, as they, too, got to devour the tasty cakes once the judges had finished.
This year, the panel of judges included Zoe Calhoun, Robert Draper, Kristen Keiser, and Brendan Lee, who got to judge nine different Bûche de Noël. "My favorite part of the Bûche De Noël contest is eating the cakes, of course! I love how creative and pretty the students make the cakes, but most of all they are also so delicious," Calhoun said. "It's also nice to be able to bond over French cake and spend time with the French Club members once the judges have chosen the winners."
While, from a cake dyed the colors of the French flag to another with elegantly-piped chocolate cream, all of the Bûche de Noël were incredible, only three winning groups could be chosen.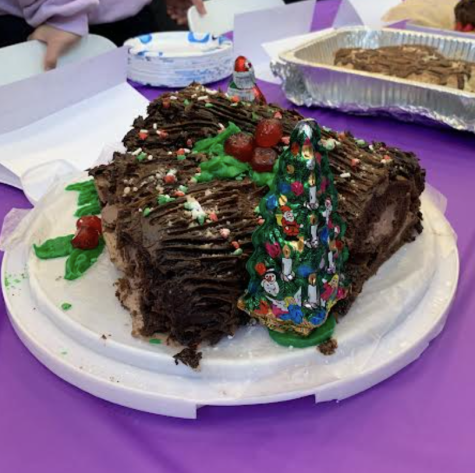 The first prize, including chocolate truffles and hot cocoa mix, went to Caitlin Higgins '24, who baked a wintry log-inspired cake that won the Most Creative category. While the end result was beautiful, it took a lot of hard work to get there. "You have to wait a few hours for [the cake] to cool off plus the baking time… I made sure to freeze it a little bit so that when you put on the icing or the whipped cream, it doesn't really melt. Also, it is very important to roll the cake and then freeze it, because if you don't, then it becomes really crumbly," said Higgins '24. In total, she described, it took five to six hours to finish the cake.
The next winning group included Stephanie Liu '25, Chloe Liu '25, and Kayla Jakubowicz '25, who baked a cat-themed Bûche de Noël with a French flag on the back that won the French Theme category. "Our bûche was decorated with little fondant cats. Making the fondant cats was hard, and our hands ended up being dyed pink, orange, and brown from the food coloring we used," explained Liu '25. Even so, "[her] favorite part of the contest was baking and decorating the cake. It was very fun!" said Liu '25.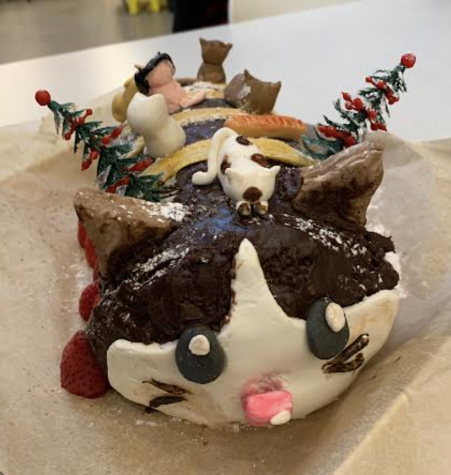 Winning the Best Taste category, Olivia Liu '23, Erika Wu '23, and Amelia Liu '23, baked a tiramisu-flavored bûche, soaked in espresso syrup and dusted with cocoa powder and powdered sugar. "I participated in the Bûche de Noël contest last year as well, and I wanted to get one last chance to participate before I graduated! … I love French and the French class community at Scarsdale and thought this would be a great chance to participate in an exciting event," Wu '23 explained.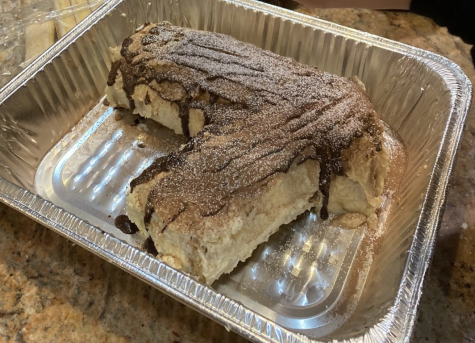 The Bûche de Noël contest was a big success, and, as always, it was a great way to bring the SHS community together to bond over both their love of French culture and, of course, sweet treats.