PTA Program 20For21 Gets SHS Moving Again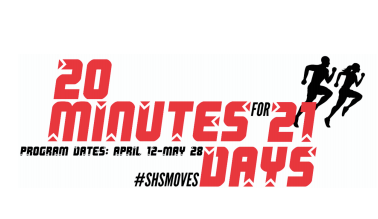 COVID-19 has taken its toll on all aspects of students' lives, including physical and mental well-being. As the Centers for Disease Control and Prevention (CDC) and the Department of Health's (DOH) passed social distancing guidelines, schools and parks closed. These cancellations prevented numerous sports activities from taking place, preventing teens from achieving the advised levels of physical activity. According to the American Academy of Pediatrics (AAP), children from six to seventeen years old should partake in 60 minutes of physical activity every day.
Physical fitness plays a vital role in growth and development, helping to protect teenage bodies from disease and sickness. Throughout lockdown, the pandemic and adjusting to online classes overwhelmed many high school students. Exercising or continuing with daily activities became difficult, especially without access to fields and their friends to accompany them. "It was a necessity… to be able to have our students educated, and so the amount of screen time just grew exponentially. That, I think, impacted the physical well-being of the students in that they were sitting in front of screens all the time and did not have an opportunity to even get up and walk from class to class," said SHS PTA President Leanne Freda.
To encourage students to acquire the necessary amount of physical activity during these trying times, the Student Wellness Committee of the PTA organized a program called the 20FOR21, 20 minutes for 21 days. This program encourages teens to exercise by providing participants with the opportunity to win prizes. By completing an activity every day, the program, which began on April 12th and will continue through May 28th, gives students raffle tickets to win gift cards.
20FOR21 allows for a variety of physical activities, ranging from jumping rope to playing a team sport. After students exercise, they will fill out a daily entry form and answer a few basic questions. Students can access the form on the school government's Instagram page or the PTA's school wires page. Participants may not fill out the survey more than once per day, and P.E. class does not count as an activity.
There will be a weekly raffle every Monday. Each participant will receive one raffle ticket per daily entry form. If someone exercises with their friend, the participant will automatically receive two tickets. "We wanted to encourage students to take a walk or play tennis or go for a bike ride with a friend, to socialize and get physical exercise as well," explained Freda.
Each Monday, five different students will be selected in the raffle to receive a gift card. Local restaurants such as Buon Amici, Bango Bowls, Scarsdale Pizza Station, and Gionnoni's are participating in this program by rewarding the students with prizes. If any student completes 21-consecutive days of physical activity through May 28th, they will gain entry into the special prize raffle. In this raffle, the students who are committed to the challenge will receive the chance to win either a Garmin smartwatch, an Amazon gift card, or a VIP 7-day parking pass at the high school. "The whole aspect of the prizes is extremely motivational. It's super rewarding to know that your hard work will ultimately pay off," said Abby Etra '24.
Although it may not be 60 minutes every day like the AAP recommends, 20 minutes is still a good start. Putting in the work for 21 days will create good habits, making exercise become an important part of everyday life.