Virtual International Day Proves Successful
International Day is the one day a year where students at SHS can share their culture or a culture important to them with the rest of the school. It usually entails food from around the world being sold in the cafeteria, along with dancing and other activities. Although this year was evidently different, the SHS student government and community still found a way to make International Day a huge success. Instead of having everyone meet in the cafeteria, they held Zoom workshops throughout the morning in which students and faculty had the option to make food, crafts, and learn about other cultures. There were four different sessions that students could join. Each time slot had three workshop options that students could choose from – all catering to a variety of interests. 
Although the SHS student government usually doesn't play a huge role in planning International Day, they decided to step in this year by partnering with the International Club to create a positive learning experience for all. "There were definitely challenges throughout the process, including finding enough clubs/people eager to share their culture/heritage with the school community and advertising enough that students attended the workshops," mentioned SHS Vice President Rishika Bansal '22. "[Nevertheless] we had a total of 12 workshops, all of which were extremely interesting and unique. In terms of attendance, we had pretty good participation and some workshops even had 20 or more people attending," added Bansal. 
Marie Lacoudre '22 led a French workshop where she taught SHS students and faculty how to make crepes. She was very excited when she heard about International Day and immediately thought of representing France. "As a child, I've always eaten crepes, whether it be at home or back in France, so it was a common recipe that I knew by heart. Because crepes are so common and culturally associated with France, I thought that teaching others and bringing a part of my culture to school would be a very exciting and interesting experience," explained Lacoudre. She also thought that by teaching the SHS community how to make crepes, others would get a taste of Europe!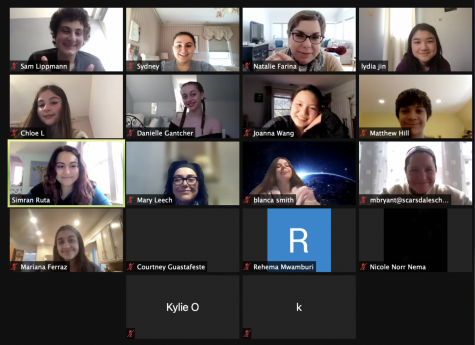 Melanie Du '23 and Estelle D'Alessio '23 led a workshop where they taught students and faculty how to make paper lanterns for Chinese New Year. When thinking about what to do for their workshop, Du considered the most important aspects of Chinese culture. "I thought of three main things – Chinese New Year, red, and lanterns – which came together and became making Chinese lanterns that represent the New Year," mentioned Du. She was even more eager to teach her traditions to those students that are unfamiliar with the Chinese culture.
International Day was a fun learning experience for many attendees. Joanna Wang '21 attended a workshop that taught her how to speak in a British accent."I thought the length of sessions was perfect, and Lydia was well-prepared and had beautiful slides. There's always a wish of activities being in-person.. but we can't do much about that," commented Wang. 
Overall, this SHS International Day showcased the the students ability to adapt and be flexible during challenging times. Although the SHS student government hasn't discussed whether to incorporate workshops of International Day in future years, they, along with many others, agree that it was an incredible learning experience.