Exclusive Interview: Interim Superintendent Drew Patrick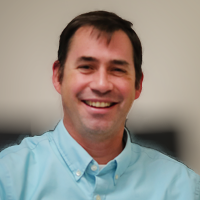 In January, Dr. Thomas Hagerman announced his resignation from his Superintendent role, which would have taken effect at the end of the school year; it was also revealed around the same time that Hagerman planned to pursue a professional opportunity at the Latin School of Chicago. The Board selected Dr. Drew Patrick, who has worked in the district as Assistant Superintendent for Human Resources and Leadership Development for six years, to be Interim Superintendent after Hagerman's departure. Amidst a controversy concerning certain payroll tax payment errors and related IRS penalties and a tax lien that the Board reported it was not made aware of, Hagerman again resigned on Friday, this time effective immediately. Patrick was selected to become Interim Superintendent effective Saturday, and he has since assumed the role. Maroon was the first news organization to interview Patrick since Friday's announcements and since he assumed the Interim Superintendent role. The transcript of the May 8 interview is below and has been edited for clarity.
Maroon: Thank you so much for doing this interview, especially on Mother's Day morning.
Patrick: No, It's my pleasure. And I'm glad you're interested. 
Maroon: I'll just start right off. More broadly, can you share with me your thoughts right now about having been selected to lead the Scarsdale School District as Interim Superintendent at this point in time?
Patrick: Absolutely. I think first and foremost, I'm excited. It's an incredible opportunity in an incredible school district. I've been here for six years in my role as Assistant Superintendent for Human Resources and Leadership Development. And over that time, I've learned how remarkable the schools, students, and community are. And it's just an incredible opportunity to get the chance to continue my work, but just from a different vantage point.
Maroon: Can you tell me about yourself? What do you want Scarsdale to know about you? What's your background? Do you have an educational philosophy? 
Patrick: Yeah, sure. So a little bit about my background. I came to education through training as a geologist, so my interest was in science. I made a career change toward teaching and was a science teacher for about 10 years in a couple of different districts. I started over at Clarkstown in Rockland County and then I came to Bedford at Fox Lane High School. I was a science department chair before being an Assistant Superintendent for Curriculum and Instruction. I certainly miss the classroom, but I try to stay connected to it. It's hard, but visiting classrooms, and I have two daughters myself, one in high school, one in middle school, so the world of education and teaching and learning is part of my life, both personally and professionally. In terms of educational philosophy, there's a lot of different areas to that, a lot of different directions to go. I think the thing I'd want people to know most is that I have a deep belief that education, and public education in particular, is a critical cornerstone of our society. Maybe that's a cliche, but I think it's absolutely true. And that it's both a privilege and a deeply important responsibility to play a role in education. Developing our young people toward their fullest potential is a very, very serious responsibility, but also an incredible honor. And as we think about the complex problems and challenges that our communities face and the world faces, being part of helping to prepare the next generations of thinkers and actors and leaders in that arena is really very important. And I love it. I love the work. 
Maroon: You talked a little bit in your answer just now about going into classrooms. I've heard from different people that with you now in the Interim Superintendent role, we might expect to see you quite a bit, as much as possible understanding that the nature of the job doesn't allow much time, but that we might expect to see you in classrooms and in the halls. Can you speak to that?
Patrick: Yeah, well, first of all, one of the real advantages in Scarsdale is that the offices of the district are in the high school. That's not the case everywhere. It's not a guarantee. So having a location that's pretty conducive to walking around in places where students are, whether that's classrooms, cafeteria, Learning Commons, athletic fields, all of those things is a real advantage. I think part of what's important to staying connected to the purpose of the work. The purpose of the work is first and foremost students and their learning. And then, of course, the adults who are responsible for creating and devising the experiences that students have, the whole teaching and learning process. I hope to see, hear from, engage with, and interact with students and teachers and staff as much as possible. 
Maroon: That's great to hear. Are there any changes that you expect that we'll see in the near future with you now in the superintendent role? 
Patrick: In six years in Scarsdale, something I've certainly learned is that decision-making is collaborative. There's a lot of people involved and that's great. I mean, there are incredibly talented people here. Students, staff, teachers, and leaders, and getting everyone's minds on the challenges of the day is really important. So I don't think you would expect just because I'm stepping into this role a whole lot to change immediately. That's not to say that we don't have some big challenges in front of us. We absolutely do. The world that we are living in and going to school in and working in is quite different than it was two and a half years ago. It's impossible to ignore the impacts that the pandemic has had and will continue to have on how we approach the work of teaching and learning. So one thing I would hope to do is to create space for structured and meaningful reflection on "what have we experienced these past two plus years?" "What about that experience causes us to think differently and maybe do things differently than it would have otherwise?" "What are some things we had to do during the peak of the pandemic that we want to make sure it doesn't become a habit now?" That's one thing I would really like to do is create some space for that conversation, certainly among students, faculty, staff, parents, and the community.
Maroon: Got it. I guess you kind of touched on this just now, but what do you see as your top priorities for our School District as we finish the school year and look ahead to next year?
Patrick: Well, the top priorities for finishing the school year are to make sure we've got all of our traditions, events, and celebrations ready to happen and to come off successfully leading up to and especially graduation. That's a huge rite of passage. And I'm speaking of 12th grade graduation from high school, commencement, but also those moving up celebrations and the opportunities of our kids to move into the middle school and into the high school. Those celebrations have been modified and adapted over the last few years and doing as much to remember those celebrations are so important as possible. I think that's really the focus in these last six weeks. And it's going to come fast. Looking to next year, we do have a strategic plan. Some components of that strategic plan have been on hold because of the pivoting we've had to do with the pandemic. So getting back to some of those things and I think this is related to what I said previously. Really thinking about wellness and well-being, having a good focus on where our students are and what they need to feel connected, successful, and ready to tackle a hopefully more regular year of school than even we had this year. So that's really important. And to me, part of wellness and wellbeing is the Diversity, Equity and Inclusion work that we have started. There's a policy in place and there's been some professional learning in place. And listening to and hearing from students in that regard is also a priority. 
Maroon: Is there anything about the abrupt nature of this transition that you expect will make things more difficult for you in the next few months?
Patrick: No, I don't think so. We knew Dr. Hagerman was moving on to a different opportunity after eight years of hard work in the district. So the transition was already underway, the Board had already recognized and appointed me to be the Interim Superintendent before this more recent abrupt sort of ending of Dr. Hagerman's tenure. I don't think there's any reason to think we're going to change anything from what we were doing in terms of that transition. 
Maroon: What are you looking forward to most about this job? 
Patrick: That's a great question. I think there's a lot to look forward to. I think more than my current job, the superintendency demands that I have opportunities to hear from and engage with a broader swath of the community. So as an assistant superintendent for HR, my primary responsibilities sort of turn inward to the organization. I'm working with faculty and staff, obviously on behalf of students, but that was really my responsibility. As Superintendent, I really get the chance to look outward toward the community, engage with the community, hopefully hear from students, hear from all the stakeholders and try to listen well. So I am interested in getting to know more of the community and just get a deeper and broader understanding of how we do things and what people hope for, what they aspire for in the future. It's kind of a broad answer. Of course, I'm also excited to continue working with people I've worked with and help them fulfill their potential and be their best. 
Maroon: And I've heard great things from various people that you've worked with that I've interviewed. It's been a very positive response. 
Patrick: Thank you, I appreciate hearing that from you.
Maroon: More specifically to Scarsdale High School students, we see that there's work being done to assess the Advanced Topics program. Can you share any thoughts about evaluating AT and evaluating whether we should be bringing back certain AP courses? I know that you taught an AP environmental science course when you were a teacher, so I thought you might have an interesting perspective.
Patrick: Yeah. That is an exciting project that's underway. It's a meaty challenge to, after quite a bit of time of living through and growing and adapting the Advanced Topics program, to step back and take a look at the landscape and see what's working. What do we think now? Has anything changed in those 10 or 12 years that warrants us to shift what we're doing? I look at it as a really exciting challenge that's going to be collaborative. So the visit from our peers around the region and the Tri-State Consortium that led to the report that was shared with the community recently was the first step. So that was a chance to benchmark where we are and then begin engaging, with their input, on asking and answering questions about, "how do we continue?" "Does it continue as is?" "Does it continue with changes or modifications?" So I don't know what the outcome's going to be. And I think that's the exciting part. Students will be part of that process. Obviously faculty will be part of that process along with the Administration. And we're meeting pretty soon, next week, this coming week or the week after, if I recall, just to begin to map out the steps that we're going to take. So you'll hear more about it.
Maroon: Is there any way that Scarsdale High School students can be most helpful in this transition? Or is there any way you'd like students to reach out to you?
Patrick: That's a great question. One thing I'm excited for is actually tomorrow night, before the Board of Education meeting, we meet for the second time this year with a group of students, and we're going to be asking those students, who are representatives through student government, to share their input on how the year gone and what we should be focusing on. I'm excited to listen to that conversation as a first step. And I would ask students to think about "how do you organize yourselves to identify what topics you care about?" I would certainly welcome an audience with students to advocate for what things are on your mind. So I guess the message to students is, "Use the structures that you have to raise the questions that you're interested in discussing with the Administration and with the faculty." So you have student government structures. Of course you have the newspaper, the work you're doing is a vehicle, is a structure for helping to communicate with me and with other leaders in the district. So use those, use those wisely. 
Maroon: Is there anything else that you'd like to say to the Scarsdale High School community? 
Patrick: I'm appreciative of the opportunity. I know the students don't directly get a voice in selecting the superintendent, but I want students to know that their voice matters and it doesn't just matter to me. I know it matters to the high school administration as well, and to the faculty as well. So I look forward to chances to interact, to connect. My email's out there, people can email me. That's certainly one vehicle. And hopefully students will feel comfortable stopping me in the halls if they have something to say.
Maroon: Sounds good. And I also just wanted to ask, is Maroon the first to interview you? I was just curious. 
Patrick: Yeah. You're the first of anyone, inside or outside the schools. So good for you for reaching out Friday.
Maroon: Thank you.
Patrick: Thank you, I really appreciate you reaching out.
Maroon: Thank you.