Black Lives Matter: Police Brutality Sparks Protests Against Racial Inequality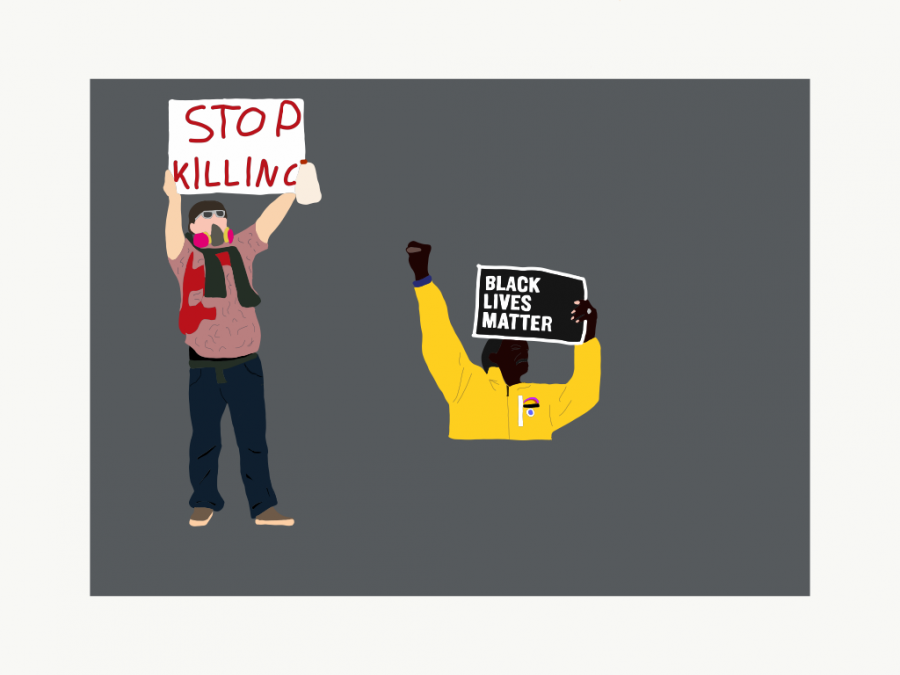 Racial inequality has been highlighted in the United States over the past few months, even though it has been a significant issue for centuries. Despite efforts and campaigns to address the issue, racism is still prevalent in daily life, exemplified by the frequent, senseless murders of African Americans. On February 23, Ahmaud Arbery, an African American man in his twenties, was murdered in Georgia while peacefully jogging. On May 25, Minneapolis police officers arrested George Floyd after he allegedly bought a pack of cigarettes with a counterfeit bill. 
After refusing to enter the police car because of his claustrophobia, Floyd was swarmed by three police officers and brutally pinned to the ground. An autopsy found that the struggle that followed, in which a police officer knelt on Floyd's neck for 8 minutes and 46 seconds, and Floyd's previous history of health disease rendered him unconscious; he subsequently died of "asphyxiation from sustained pressure."Ahmaud Arbery's murder, coupled with the death of George Floyd, the shooting of Breonna Taylor in Louisville, KY, and others has provoked widespread anger towards the racial injustice that is still embedded in the legal system in Minneapolis and across the US.
"Black Lives Matter" protests have broken out all over the United States. Floyd's death at police hands has encouraged many citizens to take a stance, raise awareness, and take strides to end racial profiling and inequality. "The murder of George Floyd feels like a tipping point. Although similar events have occurred many times, this one feels different," said Will Reed '22. "What happened was a terrible act, and the world is now reacting appropriately. Hopefully, we can see real change come to fruition as a result, " Reed added. In New York City, thousands rallied with signs, banners, and passion for their cause as they marched through the streets of the crowded city and protested the country's history of racism and police brutality. 
Although many of the daytime protests have been nonviolent, some encounters with police have turned violent, especially after dark. Police cars have been burned and stores looted. "I think the protests, violent or nonviolent, are essential to show how our government deals with a crisis like this when it's a white person who committed a crime, or a black person who allegedly did something," said Sophia Kestelman '22. Regardless, the majority of the violence following Floyd's murder is not being done in his name. The murder of Floyd has prompted small groups of people to recklessly loot and destroy small businesses, shops, and vehicles, diminishing the goal of peaceful protestors. "I think it is important for us to distinguish between the vast majority of people engaging in non-violent protests and a much smaller minority of people engaging in riots or looting," explained SHS Social Studies teacher Andrew Morgan. "When assessing rioting and looting I think we need to consider the historical circumstances that contribute to this unfortunate behavior. Rather than blame individuals—usually with racist undertones—we should consider the larger, systemic forces that contribute to this behavior," he added.
Marching is just one important way to fight for change and help society take necessary steps towards justice. "Besides protesting, students should continue to spread this message throughout their daily lives," said Amelia Lane '22. Discussing some less physical forms of protest, Lane added, "Although protesting may be a more direct way to show your advocacy, sharing these stories with others and having these conversations to spread awareness can make a great impact as well." Through posting stories on social media, students can use platforms like Instagram, Twitter, and Facebook to educate friends on the consequences of racial injustice and offer support for the "Black Lives Matter" movement. 
To create even more of a significant philanthropic and/or political influence, individuals can share links to petitions and charities that promote change in proactive and supportive ways while maintaining social distance."Students can advocate for racial equality through their daily interactions. They can look out for their fellow humans," explained Reed. 
Below is a list of several organizations and funds that you can donate to in order to raise awareness for this prolonging issue: