Alert: Up2D8 Fashion Show
PLEASE JOIN US FOR OUR FIRST 'UP2D8' FASHION SHOW FEATURING OUR UPCYCLED GARMENTS!
Location: SHS Auditorium
Date: Friday, January 24th
Time: 3 – 4 PM
I am the founder of the club Up2D8 (pronounced "up to date") which is a sustainable fashion design club here at SHS. In this club, we restyle and redesign outdated clothing to extend their longevity. Our goal at Up2D8 is to raise awareness about the waste crisis in the fashion industry and to make an impact on a local level.
After months of designing and sewing multiple reconstructed garments, Up2D8 is delighted to share our work which will be displayed at our fashion show on January 24th. All the proceeds will benefit Kids Kloset — a division of (914) Cares — which is a local charity I volunteer for. The mission of (914) Cares is to collect, sort, and donate used clothing to children in need all over Westchester. The organization also provides a sustainable solution to the waste issue in the clothing industry.  A "zero waste" mentality from everyone can help prevent climate change in the future.
Below is a before and after example of the kind of clothing that can be transformed to make it more "Up-2-D8". We hope you can join us for our event.
BEFORE: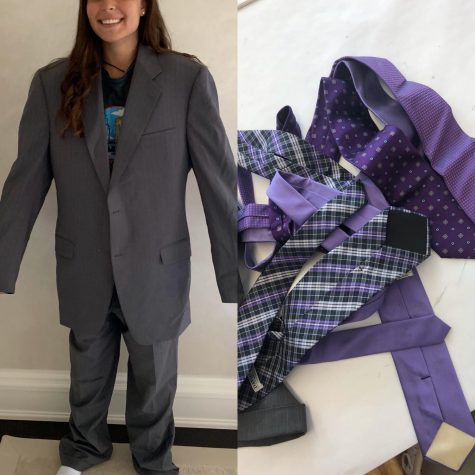 AFTER: