A Historian's Guide to the Coronavirus Pandemic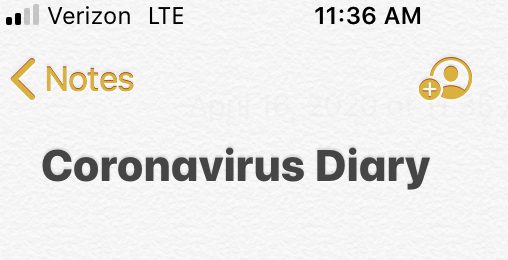 We are living through history. Sorry, let me revise. Assuming we make it through this alive, we are living through history. Some day (hopefully), our ancestors will (presumably) learn about this time in their history books. And many years down the line, the human race (which we assume still exists) will look back on our struggles the same way we reflect on the world wars of the 20th century, the struggle to end slavery in the 19th century, the rise of democracy in the 18th century, and whatever boring stuff happened in the 17th century—probably, like, sewing…  and poetry or something. In their quest to tell us about all the stuff that already happened, historians use many types of primary sources: letters, newspapers, first-hand accounts from really old people, diaries, second-hand accounts from less old but still really old people, etc. What will historians use 100 years in the future to recount our experiences, in the unlikely event that we are not extinct? If they don't use Maroon's coverage of the pandemic, they will probably use the next best thing to a diary: the notes app. So I'm going to make it easy for them and just condense all that information into one sample notes app that historians can read one day.
Grocery List
Toilet paper
Bear meat
Graham crackers
Disinfected eggs
5 lbs shrimp
Bible
To-Do List
Learn Rap God lyrics
Watch movie
Class at 1:00
Read
Put on pants & exercise
Watch movie
Put foot behind head
Class at 3:00
Put other foot behind head
Homework
Put both feet behind head at same time
Watch movie
If you could extend the deadline to next Friday,
I would be greatly appreciative. Things have been very stressful lately, what with all this extra free time, so I'm sure you'll understand that I was simply unable to complete the worksheet in two days. Thanks so much. See you in a week or two or twenty.
California girls
We're unforgettable
Daisy dukes
Bikinis on top
Chicken parm on roll
w marinara sauce on the side
light on the cheese
Novel Idea
Two elderly strangers quarantined together recall their past and discover they were star-crossed lovers during the war. At the climax of the story, just when they are about to kiss, one of them coughs.
Research paper
Section two due next Wednesday
IMPORTANT
Start research paper
How many types of primates?
Is urine sterile?
What is actually the plural of octopus?
What is the government hiding?