SHS Revamps Library
This academic year has brought some physical changes to SHS, including a new version of the library. SHS librarians Liz Waltz- man and Katja Rossi began the process of altering the school library in the fall of 2014. Both librarians recognized that there were some issues, and decided that it was time to make some changes.
The librarians surveyed 313 students on possible improve- ments to the library. "[The ma- jority voiced an importance] of quiet areas of study [and] a better [physical] flow [to] the books," said Rossi. The physical layout of the books was extremely compli- cated. Although its numbered by the Dewey Decimal System, the arrangement caused confusion for some students.
The new layout was also intended to provide more spaces conducive to quiet study. "In the recent bond that was approved by the community, money was allocated to create a new space called the Learning Commons which would be a space where kids can access food through a café, work in groups, use technology, and talk and engage in conversation… this would allow us to re-configure the library a little bit in order for us to have more spaces for quiet independent study," explained Assistant Principal Chris Griffin.
Architecture I students have also played a major role in proposing designs for the space. The class was divided into five groups of three students. Each group was asked to interview students and teachers to get an understanding of what 'needs' existed. Using the information gathered, groups created their own proposed design. "It was really exciting to get to try and make a difference in the school around us. All of our other projects dealt with theoretical spaces and as a result, this one felt much more real," expressed Maura Dooley '15. All designs were presented on the last day of the semester to peers, librarians and administration. "A lot of groups focused on noise and the division of the library's space [and] most groups [either] redesigned the en- tire library or one whole floor," described Dooley. The result was very successful. "We were really impressed. There are a lot of things we are implementing right away. [For] other ideas, we are still looking into them," explained Rossi.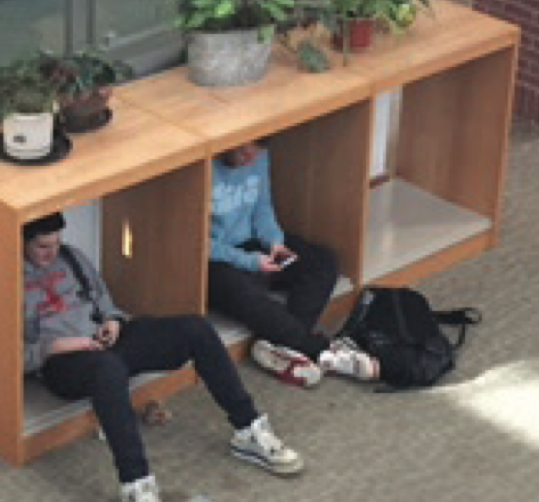 Additionally, the librarians have been focusing on the quality of the collection. The process of improving the collection is extremely time-consuming. As new librarians, Waltzman and Rossi had to become familiar with the collection."Mrs. Rossi and I went through every single book individually. There were many books that hadn't circulated in over ten years, were in bad condition, [or] were out of date in terms of relevance and accuracy," explained Waltzman. In order to resolve these issues, some books have been given away to staff, donated to other schools or replaced with new copies. For other books, the librarians have chosen to change the covers for more appeal or to replace them with different books on the same content. "Anyone who says we [the librarians] were just throwing out books for the sake of throwing them out is, quite frankly, insulting us personally and librarianship in general," declared Waltzman. Since the process had never been done before, it appeared more drastic than it actually was.
Some students were ambivalent toward the new renovations.""I don't really notice many people checking out books at the high school library," stated Sydney Kula '17. "I don't know if this will [change anything]." Others disagreed. "I think this will be effective. [This is] mostly because the people I interviewed for Ms. Yokana's Architecture class did say they had a lot of trouble with the noise level," reports John Gilpin '16. Students who are not involved in this project believe this as well. "I think the [changes] will help because [finding] books used to be very confusing. I'm always asking the librarians for help," adds Kristen Wong '18. So out with the old and in with the new because a better library is on its way.
by Sneha Dey