SHS Has a Dream, and a Voice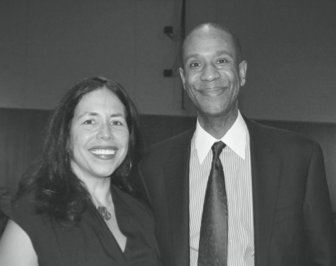 SHS students celebrated Dr. Martin Luther King Jr.'s legacy of political action on Friday, January 16, by gathering in the auditorium during fifth period for an assembly focused on the lessons King spread during his lifetime. King's goal of a unified nation has been the backbone of many movements for change in the past fifty years, and will undoubtedly continue to be for many years to come. He was not just an idealist, as social studies teacher Maria Valentin pointed out, Dr. King brought about real change. "Over time, it became easy to de-politicize him, but I wanted students to realize that Dr. King's message was very political, it was a cry to action," she remarked. The assembly, organized by a committee, was a multidisciplinary program which included student writings, original photographs and videos, and a keynote speech made by Mayo Bartlett, a criminal defense and civil rights lawyer. Bartlett was previously the appointed Chief of Bias Crimes Unit in the Westchester County District Attorney's Office.
The student work was gathered through a contest in which students submitted photos, videos, poems, and essays answering the questions, "What does it mean to have a voice? What does it mean to be voiceless?" The creative pieces brought students' voices into the discussion and allowed for a more interactive, engaging program. "We wanted to allow students to express their feelings on the current state of inequality and racism in our contry through the arts. I was blown away by the student work presented. They were all very powerful in their own way," explained Jennifer Clifton, social studies teacher and MLK assembly committee member.
The section of the program with original student work was instrumental in driving home the theme of the assem- bly. ""I thought it was great, the student poems were very reflective and showed that students really have a sense of who they are and where they live, and that they thought critically about what it means to have a voice and what it means to not have a voice" praised Valentin. One of the poetry presenters was Cindy Gao '17, who read her original piece about the impact war, oppression, and discrimination can have on a child's personal life. "I wrote the poem to try to get across the message that horrible things can happen if people don't speak out, and so I was trying to say that having freedom of speech is a really wonderful thing," explained Gao.
Sabeen Khan '17, whose video submission was presented at the assembly, was inspired to contribute to the discussion by recent current events in France, Ferguson, and New York. Her video featured interviews with various sophomores discussing the central topic of having a voice, and provided a cohesive introduction into the student work portion of the assembly. "I thought the theme was appropriate since the idea of having a voice and the freedom of expression has been talked about a lot recently, especially with the recent police shootings and the Charlie Hebdo shooting," reflected Khan.
Bartlett, the keynote speaker, delivered a powerful speech outlining many inequalities and contradictions in our so- ciety today. Valentin had known him through their legal work together, and she recruited him to speak because of his extensive knowledge of civil rights issues. Bartlett's discussion ranged from commentary on the recent con- troversy surrounding the protests in Ferguson, Missouri and New York City, to freedom of speech in the world and amongst young adults. "I love to see young people thinking critically and analytically and doing the things that we don't give young people credit for doing, you know, thinking about the world beyond their own town, their own existence. Anytime I get a chance to work with young people I'm happy to do that," mentioned Bartlett in an interview after the the assembly.
Another common theme throughout the assembly was social media and its impact on our society. People are often unsure of whether it has the ability to create actual change or if its potential to spread hate overpowers any of its benefits. "I think social media activism is great. It's another forum for ideas that brings people together who otherwise wouldn't come together. It gives you an opportunity to hear a multitude of perspectives where otherwise you would be somewhat limited," explained Bartlett. He concluded that social media can be a powerful tool, and that its positive abilities ultimately have a greater impact than its negative ones. "[Social media] has potential to be phenomenal, and you're always going to have people who seek to use it as a way to divide people, but it seems to me that the overall consensus is that people don't buy that anymore," he decided.
Students, however, often experience a different side of social media, not one of political change and sweeping movements but one where bullying and bigotry are huge problems. "Social media is a place where discrimination is rampant and I can only begin to imagine the immense emotions students must have navigating that world filled with such hate," said Clifton. She proposed that a future assembly could help address these issues that affect teens on a personal level. Students interact on social media every day, and public conversations on the internet can often unintentionally hurt the people looking on. "Even though people might not outwardly know that they are spreading discrimination, the kinds of things they say may hurt others without their intent or knowledge." said Maggie Donovan '17, who attended the assembly.
Ultimately, the assembly successfully celebrated King's legacy of political action and social justice. Students found the multimedia presentation and speakers engaging. "I liked the variety in the assembly. It kept my attention because there were so many different parts," said Cecilia Liu '17. Looking forward, however, there is still room for improvement. The students who attended the assembly were interested, but the attendance was lacking. "I wish we had a great turnout, the numbers were lower this year than in past years, and that was a little disappointing, but the students that attended seemed to really enjoy it," said Valentin. There were roughly 200 students at the assembly this year, compared to numbers in the 700s and 800s at the Martin Luther King assemblies in the past few years. Another improvement that could be made for future assemblies would be to get students out of the spectator role and more involved in the assembly's planning. "We, as teachers, always prefer students to take the reins in an assembly more so than speaking ourselves, and I have a sneaking suspicion students also enjoy seeing each other up there more so than us old people," joked Clifton. This year set a high bar, and next year's assembly organizers will have to work hard to improve and continue Dr. King's legacy.‮
by Zoe Ewing