Lunar New Year 2021: The Year of the Ox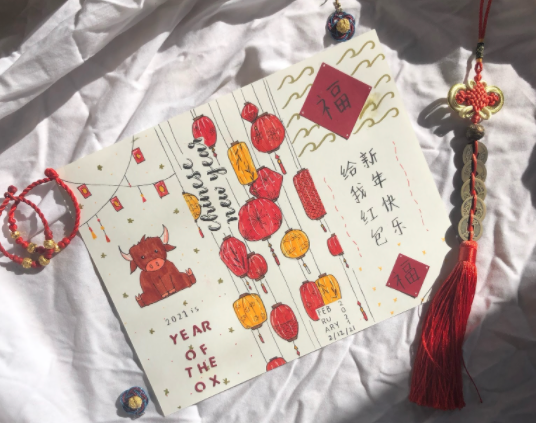 On February 12, the Lunar New Year (also Chinese New Year), which marked the beginning of the Year of the Ox, was celebrated. This year's celebration was especially unique and different due to the pandemic, and some traditions were no longer able to happen. However, this holiday is still significant for many people, and COVID has not stopped them from celebrating with their families.
Lunar New Year is typically celebrated by Asian countries on the first new moon of the lunar calendar, which is based on the phases of the moon. This holiday has been around for thousands of years and is filled with a rich history, stories, and legends. There are many common customs that take place around this holiday: people clean their houses to remove any bad luck, spend time honoring their ancestors, give and receive red envelopes containing money, hang up decorations, and eat lots of traditional foods—dumplings being a very popular one. 
In previous years Vivian Guo '21, co-president of the ACE club, had big celebrations with all of her aunts, uncles, and cousins. Since travel is more difficult this year, her family had plans to eat dumplings together and have a traditional family photo shoot. Another change in the festivities is that usually, the Scarsdale Chinese Association plans a get-together with a huge banquet of food, mothers performing traditional dances, and children doing talent shows. Instead, they organized an event on Zoom to serve as a nice alternative for people to gather together and have a good time. This holiday is significant because "it's the only real holiday that my family celebrates. My family's all Chinese and we don't really celebrate any American holidays, no Easter, no Christmas… but Chinese New Year is the one thing we can relate to, and feel we have a community to celebrate with," explained Guo. 
Lunar New Year is also a special time for Karen Lee '21, co-president of the ACE club. She often visits Korea and goes to the graves of her relatives and performs rituals there. When she is in America, she FaceTimes with family overseas and has a lot of food as well. The pandemic has given Lee the opportunity to get closer and spend more time with her family. Lunar New Year is a unique holiday for Lee because "it's one of the only times in the year where we can take that block of time and spend it with each other". Even with many outside factors, including COVID, making people's lives so hectic, "Lunar New Year is always a special moment [because] it unites family and friends, and we are able to celebrate together and have a fun time" added Lee.
While many of the New Year festivities were no longer able to take place, people were still able to feel a sense of interconnectedness with others over a shared cultural holiday.
To learn more about Chinese New Year, visit the ACE club's podcast attached below: