Sophomore Sedna Gandhi and Her Passion For Fencing
March 24, 2020
Sedna Gandhi, a Sophomore at SHS, started fencing during the summer of 2014 because she had an extra week of summer with no plans and her brother wanted to do a fencing day camp. "In the beginning, I did not enjoy fencing because I was still playing tennis, and had trouble choosing. But I kept with it and trained more and more. I got better and started to enjoy the sport much more," said Gandhi '22. Sedna later started competing during the Fall of 2015 in epee, a certain type of fencing that involves using the heaviest sword of all three types. 
Sedna trains up to five times a week for about 2-3 hours at the Fencing Academy of Westchester with Coach Vadim Diambekov. She competes almost every weekend during the fall, and at least twice a month for the rest of the year. Internationally, she fences for team USA. "I enjoy fencing in all of the tournaments because I have a great group of friends all over the country, and I enjoy the competition. Fencing gives me an adrenaline rush that no other activity could. While I fence, I am both excited and nervous, but I love fencing with that combination of feelings," remarked Gandhi.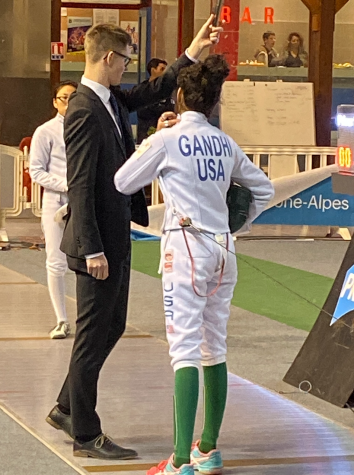 When Sedna first started fencing, she competed in several local tournaments to gain points and experience. However, this past season she largely concentrated on the major tournaments both nationally and internationally, producing great results. "I thoroughly enjoy traveling for tournaments because my parents always make time to go sightseeing, which makes the experience even better," added Gandhi. 
During her freshman year, she earned her "A" rating, the highest rating in fencing, and made the All-American First Team, which only a handful of girls make during their freshman year.  In July 2019, she won a gold medal in the Division 1A Championships at the July National Challenge and Summer Nationals. In August 2019, she won silver in the Bordeaux International Fencing Tournament in Bordeaux, France, and was chosen to represent the United States in the world circuit. In October of 2019, she qualified for competitions internationally, an opportunity to represent the USA team on the world cadet circuit. In November 2019, she won a bronze cup at the Grenoble Coupe du Monde, causing her ranking to improve from 26 to number 7 in the country. "The Grenoble World Cup was my favorite tournament because I got the opportunity to fence top-seeded fencers from all over the world," reflected Gandhi. In January 2020, she competed in Bratislava, Slovakia, finishing 17th place out of 300 girls.
The support of Sedna's parents, brother, and coach has played an instrumental role in her fencing career. "My brother stopped fencing over two years ago, and he is still right behind me always cheering me on hoping I do the best I can. My parents put the time and energy into traveling with me and have supported me since I started. My coach invests lots of time and effort into me and pushes me for me to be my best." said Gandhi. Outside of fencing, Senda enjoys playing tennis, spending time with my family, and playing the piano.
"I haven't looked towards the Olympics yet, but I just hope that I continue fencing through college. I have seen many people enjoy fencing lifelong, which I also hope to do," concluded Gandhi.