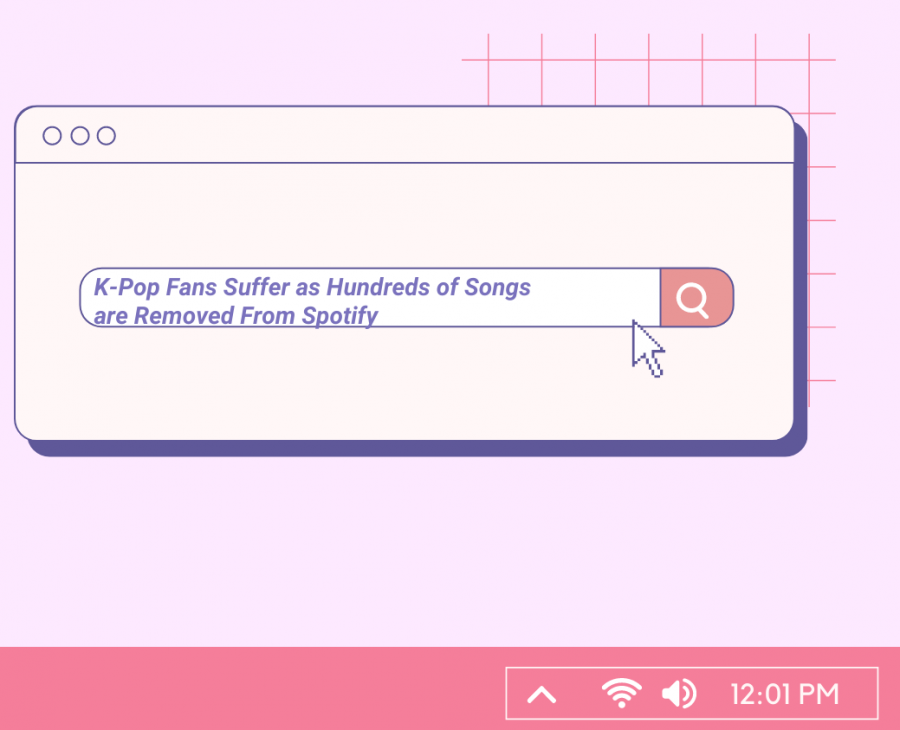 K-Pop Fans Suffer as Hundreds of Songs are Removed From Spotify
March 5, 2021
On March 1st, K-Pop fans all around the world woke up to a great shock: hundreds if not thousands of songs from their favorite artists had been removed from Spotify. The move caught many fans by surprise. What happened?
Kakao M is a South Korean music distribution company responsible for distributing the music of hundreds of K-Pop artists. Last week, Spotify announced that its global licensing agreement with Kakao M had expired. Following this shocking announcement, Kakao M removed all of its artists' music off of the music platform. The two companies have issued contradicting statements about the situation with both parties blaming the other for being unable to reach an agreement.
Up until recently, Spotify was unavailable for use in South Korea. After its launch in Korea last month, songs distributed by Kakao M haven't been available on Spotify domestically. Now, international and Korean K-Pop fans are sharing the same pain as the songs have been removed globally as well. As a big K-Pop fan myself, I was unhappy to see that nearly half of the songs on my Spotify playlists were gone.
Rumors have said that the removal of music from Spotify was also due to another reason. Ever since Spotify was released in Korea on February 1st, there has been a decrease in the usage of Melon, South Korea's biggest music streaming service which happens to be owned by Kakao M. Fans believe that Kakao M withdrew its artists' music from Spotify to drive users back to Melon. However, official announcements from Kakao M and Spotify have said that the dispute is completely unrelated to Spotify's launch in Korea. 
Regardless of the reason behind all of this, hundreds of artists including IU, Seventeen, (G)-Idle, Mamamoo, Monsta X, GFriend, and Epik High, have now had many, if not all, of their songs taken off of Spotify. K-Pop fans everywhere have been expressing outrage and even going as far as canceling their Spotify Premium subscriptions. These songs are still available on other platforms such as Apple Music and Deezer, but people are still angrily waiting for the music to return to Spotify. According to a spokesperson from Spotify, the two companies are currently working on resolving this issue, so hopefully, I'll soon be able to listen to my favorite tracks again on Spotify.