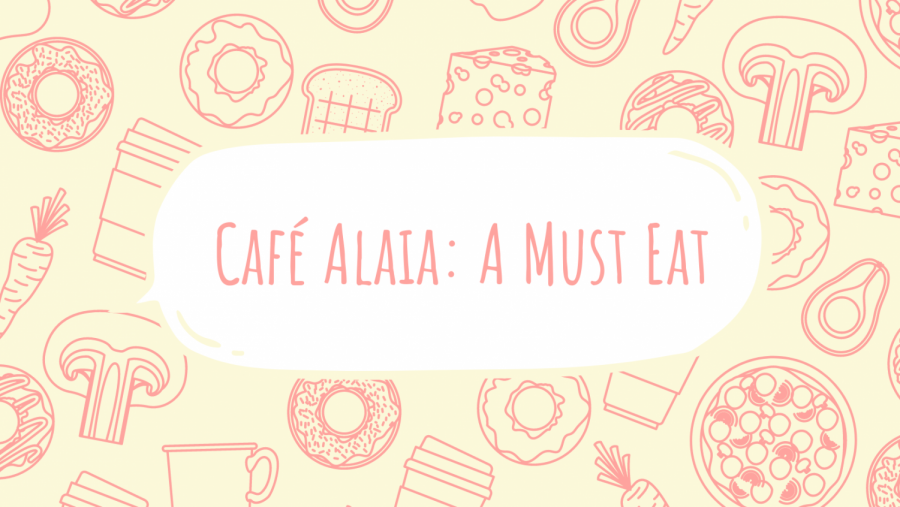 Café Alaia: A Must Eat
Although Café Alaia has been open for a while now, it has been recently relocated to 128 Garth Road in the Scarsdale village. The restaurant has replaced Cooked & Co. in a prime spot with nearby parks, clothing stores, and a train station. The popularity and convenience of this new location will allow many new customers to experience the amazing food at Café Alaia.
The setup of Café Alaia is very urban yet sophisticated. It is very upscale, with beautiful plates, wine, and water glasses, napkins, and utensils. When we went, we were escorted to our table in the restaurant, which was filled with shades of blue and grey and wood tones. The vibe is cool and exciting, similar to the atmosphere of some restaurants in Manhattan, which builds up high expectations for the food. 
The first course comes with complimentary bread and a tomato dip to start your tastebuds off on the right foot. It's impossible to sit and not devour the entire bread basket. For appetizers, we ordered the "Polpette al Sugo," beef meatballs in tomato sauce and buffalo ricotta, and once again, the entire plate was swept clean. For the price of sixteen dollars, this serves around two people, three if you stretch it, and it is worth every penny. It was a tasty, warm blend of meatballs and tomato sauce accompanied by the perfect ricotta cheese. As a side dish we indulged in the "Rosemary Potatoes," which cost eight dollars, and while this plate is not a necessity, it definitely was delicious. 
For the main meals, we ordered and shared two pasta dishes: the "Gnocchi Al Pesto" and the "Pappardelle Al Ragu Di Agnello." The homemade potato gnocchi with basil pesto & grana was our favorite dish. The gnocchi itself melted in our mouth and the basil pesto was creamy, exquisite, and unlike any pesto we've tried before. We strongly encourage anyone who likes pesto to try this dish, because it will amaze you! The second dish, "Pappardelle Al Ragu Di Agnello," was also incredible. It consisted of homemade pappardelle in braised lamb ragu served with shaved pecorino cheese. The ragu, or meat sauce, was very delicious and much softer than an average bolognese. This dish is definitely for a more mature palate, but the burst of flavor that is packed into each bite will stun anyone who tries it.
Our food came out very fast; we were served the wonderful bread basket without delay, and right as we approached the last piece, we were served the appetizers. Each course followed the other with just the right amount of time. Our server also treated us with the utmost kindness and respect. Honestly, we see no cause for dislike, as we were amazed by the hospitality we received along with the amazing food. Warm and welcoming service throughout our whole meal made our experience at Café Alaia even more memorable. He guided us through the menu and we could not have felt more comfortable engaging in conversations. Service this spectacular is very rare for teenagers, but our age was irrelevant and our water was never less than half full. 
We paid ninety dollars, including tip. While the price is pretty high, and this may not be the best location to go for a casual meal with friends, we feel that the experience was worth every penny. The combination of hospitality, aroma, and delicious food will definitely be sending us back to Café Alaia.
Rating: 10/10