An Introduction to Maroon Couture
October 22, 2019
Welcome to Maroon Couture. My name is Jenny Kahn, and I'm a junior at SHS. Since I was a little girl, I've been surrounded by fashion a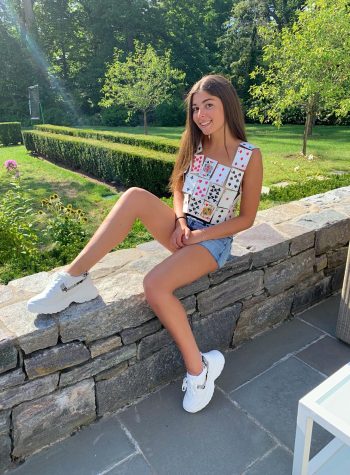 nd design. My dad has a 131-year-old multi-generational girl's fashion business, and my mom is an Interior Designer. I used to model regularly for brochures and their website, which sometimes included some of the looks I put together. I was able to watch his company work and offer my opinions when brainstorming ideas for his new collections.  Helping him create and design garments has inspired me to design my own pieces. I was able to play with the garments and extra textiles both of my parents brought home, using them to create my own fashions during pretend play. Over the past few years, I have attended numerous art classes and fashion courses at FIT, as well as experimenting on my own.
One of my passions is sustainable fashion design. Each year, 26 billion pounds of textiles are thrown in landfills each year. Second to oil, the fashion and clothing industry is the largest polluter in the world. The textile industry is also the third top water-wasting industry. With "fast fashion," cheap clothing that is bought and rapidly discarded, this waste will only get worse. At SHS, I founded the club Up-2-D8, where we restyle and redesign old, outdated clothing to give the clothes more longevity. 
In this blog, I will be talking about trends in the fashion world as well as popular styles here at SHS. I'll give fashion advice, feature some students with great style, and write about local fashion shows and exhibitions. I will also give tips on how to reinvent those old clothes in your closet so they won't be discarded so easily and quickly. I look forward to sharing all my fashion reporting and recommendations with you on this blog!