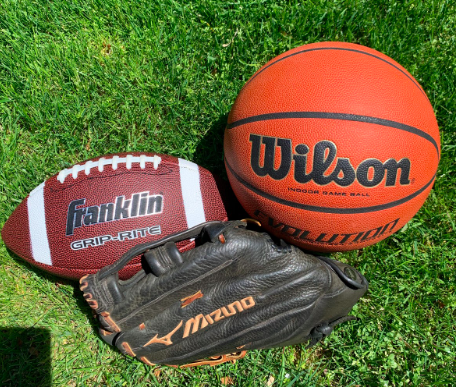 Maroon Staff
As parts of the country and the world begin to reopen, different sports leagues are also coming back. 
Sports have recently returned to South Korea, where the Korean Baseball Organization (KBO) has just started a new season. South Korea, a country with only around 11,000 coronavirus cases despite a population of almost 52 million, has returned to normal life – safe for everyone wearing masks. This goes for the KBO as well, since everyone except for the players on the ten teams, will be wearing masks. In place of fans in the stands, the seats are filled with cardboard cutouts. For a ceremonial first pitch, nine-year-old Lee Raon stood inside a baseball painted bubble on the mound. Similarly, baseball fans in Taiwan can attend games, while still adhering to social distancing policies. Only 1000 people are allowed at each game, with several seats in between each fan. There are also no concessions. 
In Germany, soccer league Bundesliga returned on May 16. Each player is subject to two COVID-19 tests before each match, and there are no fans in attendance. Additionally, the British government recently proposed June 1st as the date for the return of the Premier League. This will only occur, however, if they come up with new safety rules that are approved by health officials.
American leagues are starting to plan on their return, possibly using Korea and Taiwan as blueprints on how to do so safely. The Ultimate Fighting Championship (UFC) recently held UFC 249, the first major sporting event in almost two months. It was held in Jacksonville, Florida, with no fans in attendance. All fighters were tested for coronavirus, and the one fighter that tested positive did not participate. Justin Gaethje beat Tony Ferguson to win the main event.
The National Basketball Association (NBA), who had to pause their season, has recently announced that practice facilities in states with fewer restrictions are allowed to reopen. The Denver Nuggets, Portland Trail Blazers, Cleveland Cavaliers, and Toronto Raptors are some of the teams that have done so thus far. Social distancing is still being practiced. as there are only four players allowed at a time and only one at each basket. In an interview with ESPN, Cavalier power forward Kevin Love described his time back practicing as  "pretty uplifting." The NBA is also reportedly considering playing the rest of the season at one location- either Las Vegas or Orlando. Although there are no immediate plans to return, this is a promising step. 
Major League Baseball recently revealed plans for their season, which was supposed to start in late March. According to The Athletic's Ken Rosenthal, the plan, pending approval, would have the season start in July with only around 80 games instead of 162. Teams would also only play teams in their region, and although the plan is for teams to play in their home stadiums (without fans), if the local government does not allow it, they could temporarily relocate to a new stadium. 
As for the National Hockey League, (NHL), ESPN recently reported that they plan to skip the remainder of their season and head straight into the playoffs, if and when they can return.
The National Football League (NFL), whose season has not yet been affected, has been going through their offseason remotely. The NFL Draft took place in late April in the homes of all coaches and general managers. Commissioner Roger Goodell announced the picks from his home in Bronxville, instead of in front of millions of fans in Las Vegas. Teams have also been conducting their minicamps remotely, with players meeting with coaches over Zoom. They have recently released their schedule for the upcoming season, which is still planned to start in early September.
While the date of when our beloved sports are coming back is still in question, it may be sooner rather than later. For now, ESPN is airing KBO games every day for viewers to watch, although the games are before 6:00 AM.