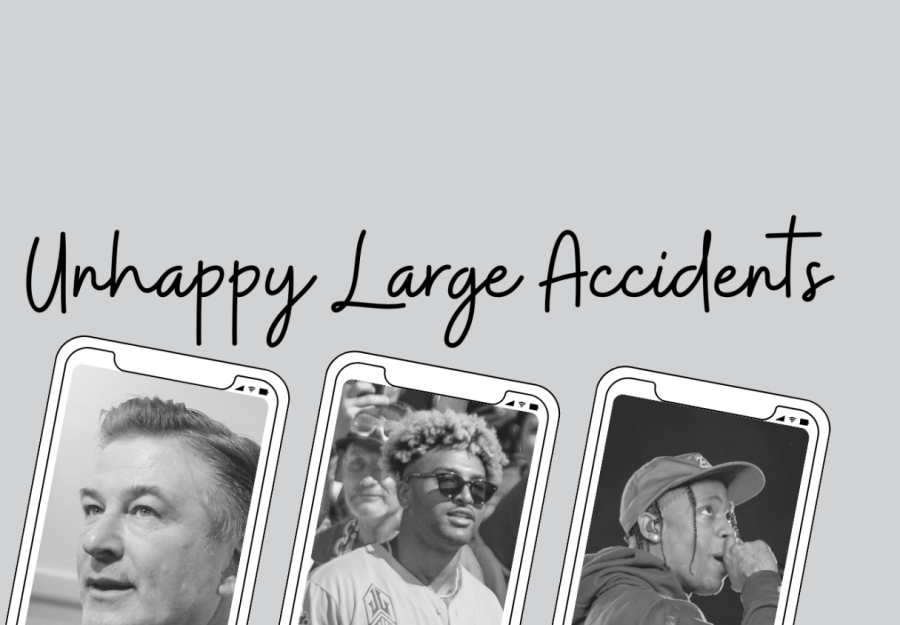 Maroon
Accidents happen to the best of us. The worst of us, too. But accidents are accidents because…well, they're accidents. There's no intention behind them. Though, intentional or not, the bottom line is that someone gets hurt. And there are varying degrees of accidents. Accidents can be wildly beyond our control or undoubtedly within it. So who do we blame when blood is spilled? How much should we blame, if at all? In light of the slew of recent "accidents" committed by American celebrities, I think those questions are worth evaluating. So I'll break down those incidents as best I can.
Oh, and before I start, can I mention how weird it is that all of these incidents happened within like a week of each other? It's weird.  
Case 1: Alec Baldwin. He's starred in countless classics like Beetlejuice and The Boss baby. He's the guy from 30 Rock. He has a daughter named Ireland. You know who he is. And, chances are, you've heard of his deal on the set of Rust. Early last month, an assistant director was supposed to hand Baldwin an unloaded prop gun. But everyone on set found out that the gun was, in fact, not unloaded when Baldwin fatally shot the cinematographer and wounded the director. On Baldwin's part, it definitely seems like an accident. He wasn't the one in charge of determining if the gun was loaded or not. Maybe it was that assistant director. He did yell "cold gun" to indicate that the gun did not contain live ammunition. Or maybe it was negligence on the part of the armorer. Live ammunition is near-taboo in the industry; in the event that real firearms are used, they only ever fire blanks. Either way, the blame shouldn't fall on Baldwin. And, sure, a new lawsuit suggests that the script never mentioned Baldwin firing the gun regardless, but it's not fair to fault him for the string of mishaps that led up to the pull of the trigger. There were already fundamental issues with the production of the film. Countless crew and cast had walked off before as a result of ridiculous working conditions. Bearing all of that in mind, Baldwin is nowhere near culpable.
Case 2: Henry Ruggs. Formerly the wide receiver of the Las Vegas Raiders. At around 4 in the morning of November 2, Ruggs was speeding at 156 mph when he suddenly struck a Toyota, killing the woman and dog inside. And his blood alcohol content was roughly double the Nevada limit. With this one, there isn't much room for discrepancy. The man was drunk out of his mind and was driving recklessly. Of course, he didn't plan to kill someone at that hour, but he could've so easily avoided that situation. It's still an accident, sure, but he had every opportunity to make literally any other decision. This one is pretty clearly Ruggs' fault.
Case 3: Travis Scott. I don't need to introduce this guy at all. Nor his predicament, probably, because the Astroworld 2021 tragedy has been all over everywhere for the past week and a half. And now we're looking at a total of 10 deaths due to trampling, crowd-crushing, and a gross lack of foresight. Two of those victims were our age. One of them was just 9. I think this accident is a bit harder to read. It's more of a "to what extent" question because Travis is at least somewhat responsible. To what extent, then, was Travis at fault? Fans were forcing their way through security lines. Travis, reportedly, encouraged these fans to rush the stage. And he made only one lackluster attempt at pausing the concert. I don't think he can be the sole bearer of blame, however. NRG Park was laughably understaffed. As the face of the event, it's expected that he would have to deal with the brunt of the criticism. Unlike Ruggs, maybe Travis doesn't fully deserve that blame.
What's the big picture? There are these 3 unfortunate events, but what do they mean? They certainly teach us that hindsight truly is 20/20. Countless measures could have been taken to avoid any and all of them. But what I think is most interesting is how we view each of these celebrities moving forward. Should these accidents shape our perceptions of them? Are we allowed to separate their work from their character? I think of Kanye a lot. I'm in love with his style and cadence, but his presence on Twitter is unrecognizable. Do we suddenly stop listening to Travis' music? Should Ruggs be permanently barred from playing in the NFL? I don't know the answer to those questions. Maybe there isn't one. However, in a world where cancel culture is a virus and individual opinion is a sin, we should be looking at these "accidents" under a more meticulous lens.