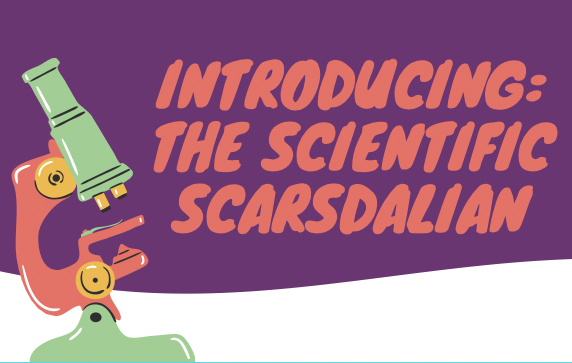 While Maroon covers stories over a wide range of topics, seldom will you find an interesting read regarding science, both in the Scarsdale community and the world at large. Simone Glajchen '23 and Cindy DeDianous '23 have taken this to heart, and have consequently begun the process of creating their very own student-run magazine, Scientific Scarsdalian.
Scientific Scarsdalian was previously a magazine at SHS several years ago, but Glajchen and DeDianous have decided to revamp the publication. "Scientific Scarsdalian existed…when my sister was in high school…I remember that she really liked doing it…so I was kind of inspired and called Cindy because she also thought it was a good idea," explained Glajchen.
Science, being a passion for both students, largely drove the decision to introduce Scientific Scarsdalian to SHS. "As someone in the Science Research class, I know that there are a lot of SHS students who have their own STEM-oriented interests, whether they're in the class or not, and they're pursuing their own projects outside of class," noted DeDianous. In this regard, Scientific Scarsdalian offers students the opportunity to follow potential interests in science in a way that is both engaging and accessible. "The only real place at SHS to read scientific literature and learn about it is in the Science Research class…a lot of people don't have time to take that, and even people who do, probably want some sort of outlet to write about what they're researching and reading," said Glajchen.
On the topic of accessibility, it's important to note that Scientific Scarsdalian is open to every student at SHS. "You don't often find extracurriculars that combine both humanities and STEM…so [Scientific Scarsdalian] kind of serves as a space for students who are interested in both, to…create content that serves their interests," said DeDianous.
And it is a much less serious commitment than many other clubs, which is beneficial for students who have tight schedules. "We wanted to try to make it more informal and more of a fun thing to do…you don't have to be some crazy scientist, or even do any of the programs at the school to join, it's just if you find it interesting and you want to write," added Glajchen.
Given the current state of the world, where scientific breakthroughs and dilemmas have become the norm, information about these topics is especially useful. Glajchen and DeDianous plan to fully bring Scientific Scarsdalian to SHS at the upcoming spring club fair, where students can sign up to join the staff.
For now, you can find more information on their Instagram, @scientificscarsdalian.