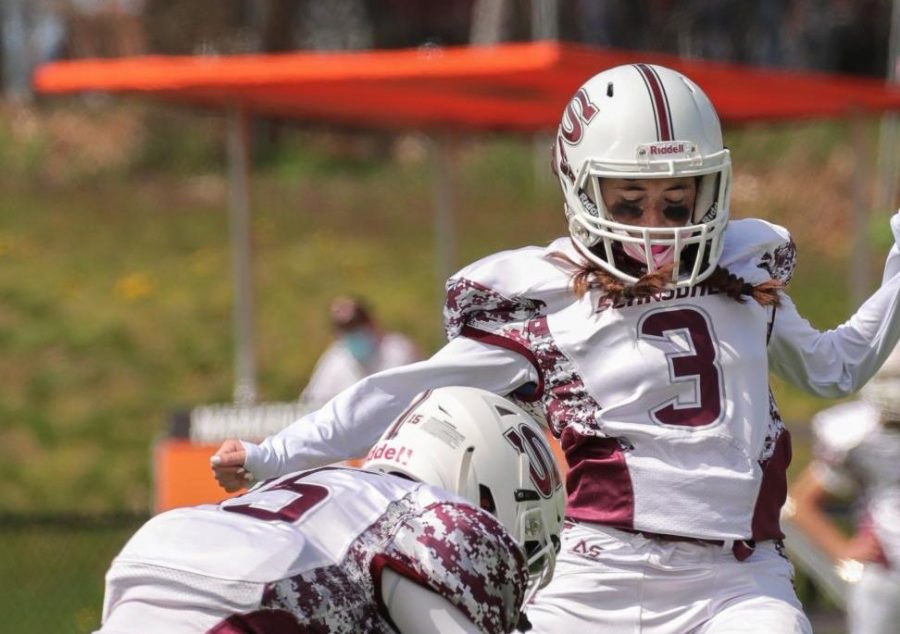 Keith Morris (@KeMo)
When Ryan Silberfein '21 and her friend Jordi Wiener '21 signed up to manage the SHS varsity football team, playing on the team was not on Silberfein's mind. She had never played organized football before, as the football season and soccer seasons usually overlap, and Silberfein always chose soccer. While Silberfein said that her father had "joked that [she] might be playing kicker one day," Silberfein had "no intentions of playing."
But when starting kicker Bennett Abbe '22 suffered an injury just one week into the season, Silberfein began to wonder if her soccer skills could translate to kicking field goals. "I emailed the coaches and I was like, 'Look, it's probably a shot in the dark… I'm happy to step in, or at least give it a try, if you guys are willing to let me,'" Silberfein said. "[The coaches] were all for the idea… I tried kicking at practice… [the coaches] got me suited in my uniform, the helmet, and pads," she added.
Silberfein explained that the coaches picked her to be the team's kicker and she prepared for her first game.
During her first game, Silberfein did not get a chance to kick, as the Raiders did not score. But on Thursday, April 1, Silberfein finally got a shot. "The first touchdown of the game, we went for a two-point conversion to tie the game. After we scored the next touchdown, they put me in and I scored the extra point," Silberfein explained. After she kicked the extra point, her teammates and coaches were very excited. "After the kick, they all went crazy for me, which means the most to me, just having a supportive team and friends and community behind me," Silberfein said.
Silberfein could not have done what she did without the help of her coaches and her teammates. "The coaches wanted me to be successful… they came to practice early to help me kick, teach me, or just give me extra reps," Silberfein said. "The team and the boys… they've all been so supportive. Nothing but encouragement and support from them," she added.
Silberfein explained that she was surprised that people were so inspired by her story, but she is glad that people are inspired. "I didn't think that me being on the team [would really] change anything or necessarily inspire anyone, but now seeing the reaction from the team, my friends, now I see that it actually did mean something and that people notice and think it's great, amazing, and inspiring," she mentioned.
Silberfein referenced Vanderbilt kicker Sarah Fuller, who recently became the first woman to score in a Power 5 football game, as an influence. "I saw Sarah Fuller go ahead and play for the Vanderbilt football team earlier this year, it was definitely an inspiring event and act… Girls can do it. Anyone can do it," Silberfein stated.