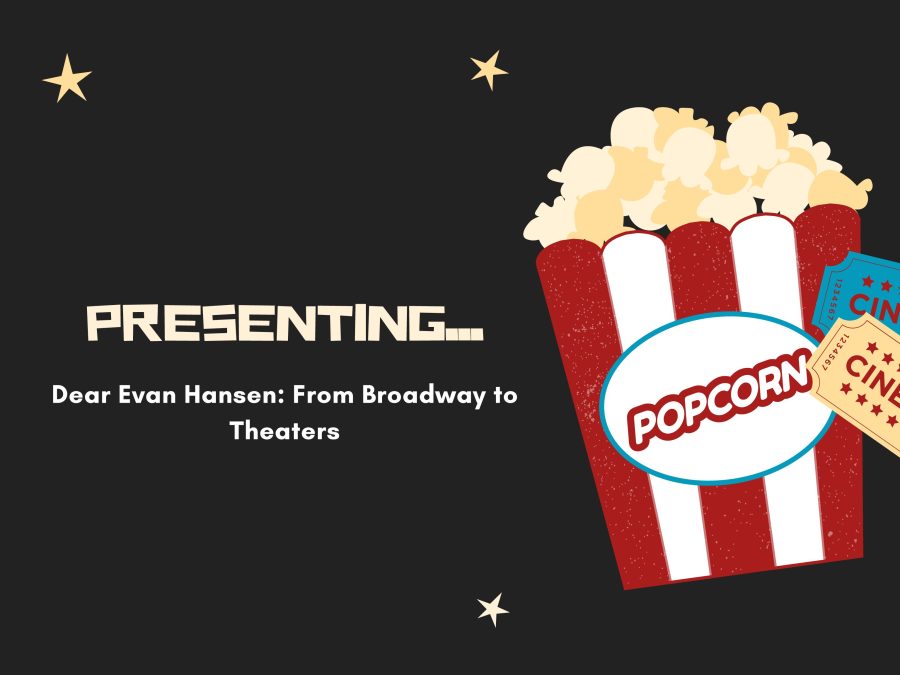 "Amazing" was the only word that came to mind after I saw the movie "Dear Evan Hansen." From the emotional rollercoasters, to the character development, director Stephen Chbosky did everything right. Typically, when Broadway shows are made into movies, they feel noticeably different, but this one felt very similar to the show because of Ben Platt's reprise of the titular character. Without his incredible voice, the movie would not have been the same. In addition, I could not imagine someone with different looks playing Evan. According to NPR, "Platt drew on his own anxiety to play Evan Hansen." This vulnerability has had a major effect on the show and now the movie, as it provides a sense of relatability for many people.
"Dear Evan Hansen" focuses on the suicide of Connor Murphy (Colton Ryan). Evan Hansen is an anxious high-schooler, who fakes a friendship with Connor. Before the suicide, the Murphy family is led to believe that Evan was friends with Connor. The Murphys use Evan as a guide through their grief, as he unexpectedly grows very close to them in the process. 
The movie makes great use of plot progression. First, it walks the viewer through the Murphy family's stages of grief. This was very well incorporated, as it gave a sense of organization to the film. Second, the movie displays both relationship development and character development. As Evan opens up to more people, he becomes more comfortable in his own skin and in the real world. Zoe (Kaitlyn Dever), Connor's sister, also becomes more open about her emotions after experiencing the death of her brother, contrasting her more closed-off personality prior to the tragedy. Zoe and Evan form a relationship as they connect with each other through the death of Connor. The development of this relationship was outstanding, as these characters grew to become more open with their emotions together.
Many critics have been bothered by the amount of music in the movie, arguing that it felt unnecessary. Yet this argument is counterintuitive, as this movie is literally based on a musical. It would detract from the movie if there were not as many songs; in fact, I believe that they could have added more songs. The movie left out my favorite song from the show, "Anybody Have a Map?" This song portrays the struggles of Evan's mother, which definitely could have been helpful in understanding the movie. 
Overall, "Dear Evan Hansen" may have been one of the best adaptations of a Broadway show to a movie. I applaud Stephen Chbosky for adapting this incredible show into such a great movie, as it was undoubtedly a difficult task.