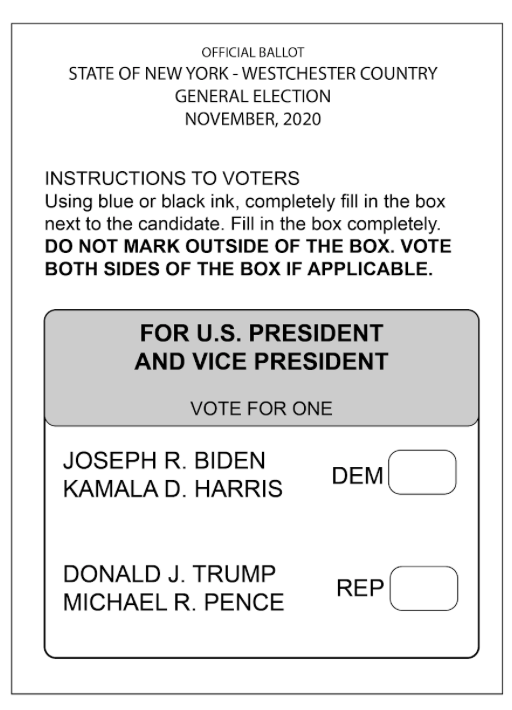 Maroon Staff
With an important election less than one week away, many are unsure which candidate will win and by what margin. Pollsters have been working almost the whole year trying to paint a clear picture on where the voters stand. Polls, although not always completely accurate, can provide a good snapshot of how many voters support each candidate. 
Most national polls have Democratic candidate Joe Biden in a clear lead, with analytics site FiveThirtyEight up more than ten percentage points on their poll average. That includes a recent poll of 937 registered voters from the New York Times/ Siena College Research Institute, in which Biden leads 50% to 41%. That includes 90% of the black voters supporting Joe Biden. In New York State, Biden leads President Trump by more than 30 points, as per FiveThirtyEight's polling average.
 As for Congressional District NY-16, which encompasses most of Scarsdale, newcomer progressive Democrat Jamaal Bowman is in the clear lead of Conservative Party opponent Patrick McManus, as FiveThirtyEight estimates a popular vote margin of more than 70. CNN has labeled the district "Solid Democratic". 
Although there is no Senate seat up for grabs in New York, there's a lot of important races to look out for. Maine's Republican incumbent Susan Collins appears likely to lose her race with Democratic opponent Sara Gideon, as many polls, including a mid-September Quinnipiac University one, have her up more than five points. In the strong Republican state of Alabama, Democratic Senator Doug Jones faces former University of Auburn head football coach Tommy Tuberville. An early October Auburn University at Montgomery poll had Jones in a twelve point deficit. All in all, Democrats are leading in six races with Republican incumbents, signaling a high likelihood of them retaking the majority.
However, after most polls last presidential election wrongly predicted a strong Clinton win, there is lots of distrust with the polling system. Even though many polling companies have made changes to their systems, including taking things like college education into consideration, many people are expecting a large amount of secret Trump voters. "I don't trust what the polls are saying. I think Trump will win.", said one anonymous SHS junior. On the other hand, many are confident that polls for this election will be more accurate. "I think Biden is going to win." said Samantha Menell '22. Additionally, Biden's lead now is much greater than Clinton's at this point in 2016. For example, in the state of Wisconsin, which had a surprising Trump win in 2016, Clinton lead in the New York Times' poll by five points, whereas Biden is currently up 10.
All in all, polls are suggesting that Biden wins the Presidency strongly this election. And although polls were mostly incorrect in 2016, there is good reason to believe that won't be the case this year.