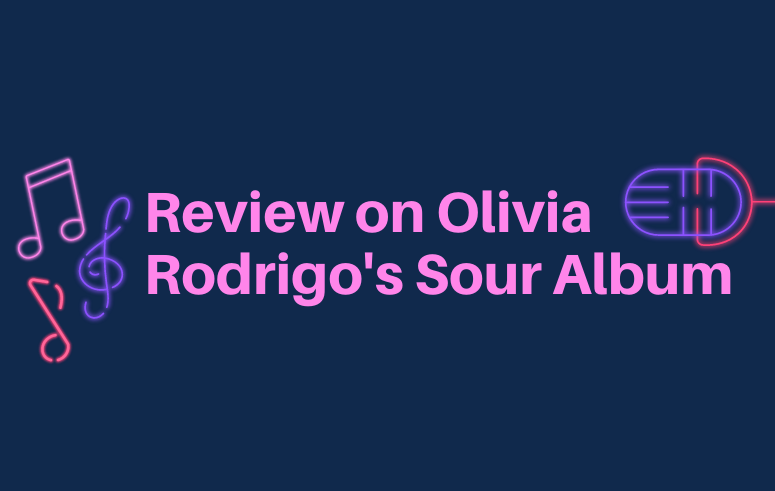 Maroon Staff
Pop sensation Olivia Rodrigo first came to the spotlight as a solo artist when she released her single "drivers license" on January 8th, 2021. The world was in shock as they listened to her powerful voice tell the story of a teenage girl lamenting a recent heartbreak. Thus, it is only reasonable to say that Rodrigo's debut album SOUR was one of the most anticipated albums of the year. After hearing the moving lyrics and astounding production quality in "drivers license," fans were eager to hear what masterpieces she would dish out next. On May 21st, the wait was over.
Most of the album is forged out of a collaboration between Rodrigo and her songwriting partner and producer Daniel Nigro including the very first track labeled "brutal." "Brutal" is a punk rock-style song in which Rodrigo screams out her frustrations of being a teenager in today's society. Although she clearly plays into the stereotype of teenage angst, the meaning of her lyrics resonates with a lot of young people in the real world. In "brutal," the melody is barely sung—the verses are performed almost like speech. Instead of flaunting Rodrigo's vocal skills, the song focuses on the meaning of the lyrics and heavy instrumentals to create the desired effect. Not many artists are able to successfully create a song with only these elements, so it really is a testament to her and Nigro's creative flair. The album progresses to much more mellow-toned songs such as "traitor" and "happier."
It's difficult to piece together a particular story arc. I find that the album's name and cover photo, depicting a moody Rodrigo against a purple background, make little sense in the context of the material on the album itself. A good portion of the tracks is emotional breakup songs similar to "drivers license," with only a couple of outliers centered around other topics. Rodrigo has been criticized for her lack of diversity in her writing, with people saying that her songs are too heavily focused on heartbreak and teenage romance. To some extent, I would have to agree. A few more tracks about other aspects of her life would bring more color to both her album and internet personality. However, that's not to say that she hasn't displayed impressive skill when it comes to her compositions.
One of my favorite songs on the album is "favorite crime," where Rodrigo emphasizes how her past lover wronged her by likening him to a criminal. What's most powerful about this metaphor is that Rodrigo expresses her own involvement in the offense, saying that she was a "willing accomplice" and that she would "do it all again." She depicts a toxic and potentially abusive relationship perfectly, addressing how the manipulator is able to draw in their victim and keep them dependent. The song uses an increasing amount of vocal layers to build up tension while limiting the instrumentals to a single line of guitar. It's an intense, emotional song, especially for anyone who can relate to its theme.
Olivia Rodrigo's new album SOUR is an incredible feat. At only 18-years-old, Rodrigo displays incredible songwriting and producing abilities. She is successfully weaving herself into the music industry, leaving the world waiting on the edge of their seats to see what she has in store next.