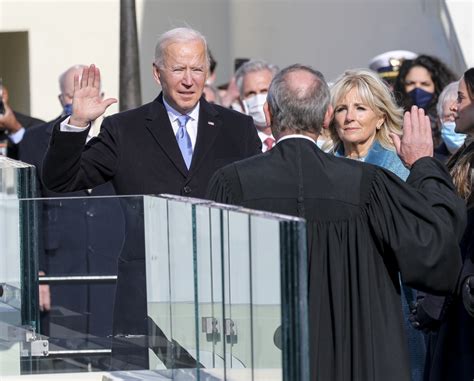 https://en.wikipedia.org/wiki/Inauguration_of_Joe_Biden
Now that Joe Biden is officially inaugurated as the 46th president of the United States, there are bound to be loads of comparisons between him and his predecessor, former President Trump. Biden's first major speech as president, his inaugural address, had a strikingly different tone than that of Trump.
It is no secret that Biden is inheriting quite a difficult situation. Racial tensions, an economic recession, and a global pandemic just begin the list of issues the former Vice President will have to address. Amidst these crises, Biden has been urging unity, which was arguably the number one message pushed in his speech. "For without unity there is no peace, only bitterness, and fury, no progress, only exhausting outrage," he claimed.
While Biden pushed for unity, Trump's inaugural speech pushed the chronicle that started his campaign: "Washington politicians" are the issue in America. This topic was what he spent most discussing, according to USA Today, with "patriotism" and "America first" coming in second and third.
In addition to speaking on unity, Biden's main talking points included "democracy" and "truth, honor, and intelligence."
Here are a few more differences, also courtesy of USA Today: Biden spoke for 21 minutes and 12 seconds, slightly longer compared to Trump's 17 minutes and 12 seconds. Biden uttered 2,525 words with the most frequent being democracy (10), challenge (8), and history/historic (8). Trump, on the other hand, used 1,468 words. Unsurprisingly, Trump's three most frequent words used had a different tone than Biden's: country (12), protect (7), and dream (6).
Despite only being in office for a week, President Biden has made numerous executive decisions in order to reverse Trump's policies and aid the country amidst the many crises occurring.
On only day one, Biden managed to rejoin the Paris Agreement on climate change, end the "Muslim Ban," pause federal student loan payments, require masks on all federal property, defer funds headed to the border wall, and ban discrimination based on gender identity or sexuality. It's evident that most of the early stages of his presidency will be focused on dealing with Trump's effect on the nation, yet the President has done quite a lot during his first seven days.
Throughout the rest of the week, Biden reversed the transgender military ban placed by Trump, re-instated COVID travel restrictions, began the process of ending federal contracts with private prisons, and placed an order denouncing anti-Asian harassment and xenophobia.
In his first 100 days, Biden plans to increase the rate of vaccine distribution, revive the economy through stimuli and COVID restrictions, and hopefully reopen the majority of elementary and middle schools.
In the end, it's clear that the President is busy at work.