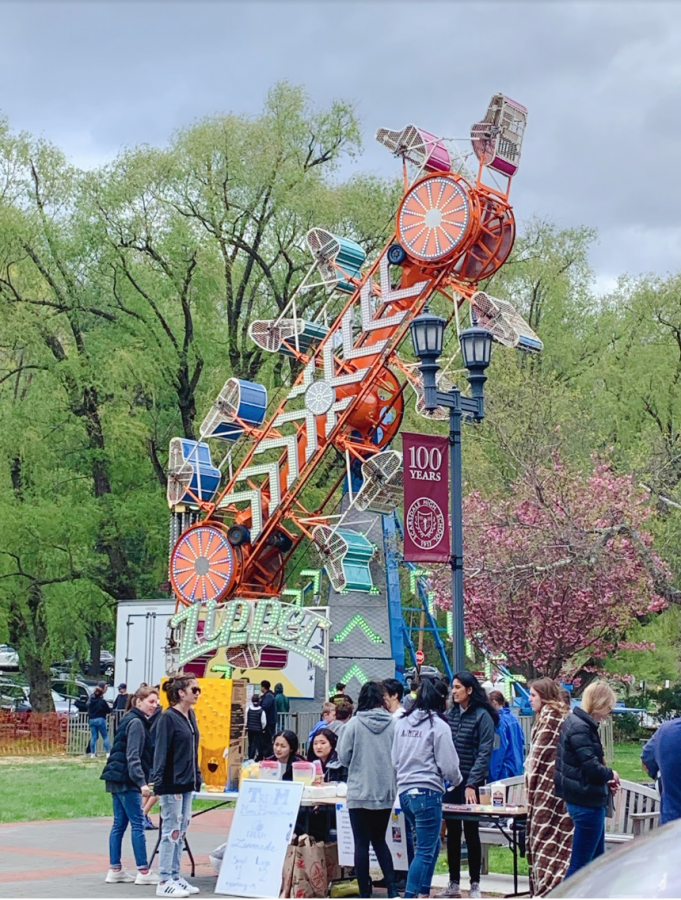 Bad weather is often accompanied by a miserable mood, but even though weather conditions were bleak on Saturday, April 27, shouts of exhilaration and happiness could still be heard coming from SHS's Brewster Road entrance. Last Saturday, SHS hosted its annual carnival which showcased exciting rides from Newton Shows as well as a multitude of games and prizes. Because of the hard work of many people and the appearance of crowd favorites such as The Zipper, this year's carnival cheered up even the windiest of days.
Not only was the carnival entertaining, but the money raised from it was used for good causes. The proceeds from wristbands, tickets, and student government games served as donations for various nonprofit organizations—the Mehlman Family Research Fund at Dana Farber Cancer Institute, My Sister's Place, and Caritas of Port Chester—proving that going to the carnival is truly a win-win situation.
Many clubs also used this opportunity to sell baked goods and other treats in order to raise money for their clubs. Helping Hands in Brazil hosted a bake sale featuring Brazilian treats, such as brigadieros. "The proceeds go to help impoverished children [in Brazil]," explained member of Helping Hands in Brazil Juliana Zraick '22. Some clubs were even able to come up with alternatives to selling food. The Yarn Work Club tempted onlookers with their "design your own pins workshop." The Shakespeare Club also tried a different take by hosting a cup toss, with prizes including cookies and a quote from the Bard himself. 
Even though the weather created a series of problems, thanks to the support of the Student Government and help from administration and club members, this year's carnival was still a big success. The carnival was canceled on Friday, April 26th because of rain, but extended hours from 12 – 7 p.m. on Saturday were able to make up for it. "With everything that happened, we were all really worried that nobody would show up, but it was successful. We raised a lot of money, and we were really proud of what we did," said Freshman Class Vice President Janmariz Deguia '22. For those of you who are sad that the carnival is over, it's never too early to get excited for next year.