To Kill a Mockingbird is Brought to Life on Broadway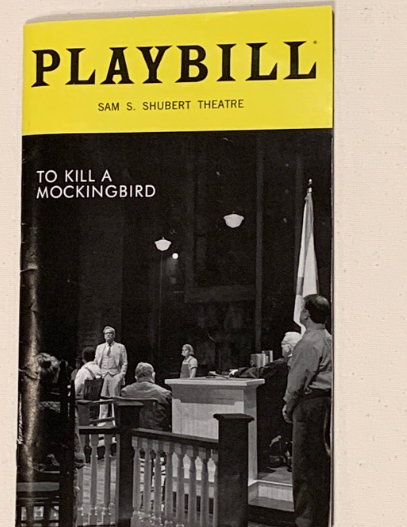 Hang on for a minute...we're trying to find some more stories you might like.
The winner of the Pulitzer Prize for Fiction and countless other prestigious awards, To Kill A Mockingbird, by Harper Lee, is a timeless, somewhat melancholic novel that illustrates how prejudice can obscure justice and morality. Told through the eyes of a child, read and analyzed in high schools across the nation, and beloved by people all around the world, it is no surprise that when the adaptation of the novel flew to Broadway in December, I used all of the aforementioned reasons to force my parents into bringing me to see it.
SHS is known for shaping their students to have a successful and well-rounded life. From a young age, Aaron Sorkin '79 was intrigued by the dialogue and vibrant atmosphere of the many plays that he attended.  After years as an active member of the SHS Drama Club, Sorkin went on to become a well-known writer and producer, as well as the winner of an Academy Award. Nearly four years after Harper Lee signed the contract allowing the play to be written, Sorkin completed the challenge of bringing America's best-loved novel—according to a PBS poll—to life.
Performed at the Shubert Theatre in Midtown, Manhattan, and directed by Bartlett Sher, the director of innumerable successful Broadway shows, it is safe to say that the To Kill A Mockingbird play does not disappoint. The play vividly and accurately tells the story of Atticus Finch (Jeff Daniels), a virtuous lawyer in Alabama who chooses to defend an innocent black man against rape charges. As someone with the attention span of a goldfish, I appreciated the comic relief provided by Judge Taylor (Dakin Matthews) during the trial. The entire set was also fastidiously organized, and every single detail was perfectly attended to.
Although the plot remains the same, Sorkin does include a few alterations from the book in order to make it more relevant to our lives today. Instead of hearing about the trial from Scout's perspective only, the story is narrated by Scout (Celia Keenan-Bolger), her brother Jem (Will Pullen), and their friend, Dill (Gideon Glick), who all did an impeccable job portraying their characters. The roles of Tom Robinson (Gbenga Akinnagbe) and Atticus' housekeeper Calpurnia (LaTanya Richardson Jackson) were also expanded on from the book, and the trial was the focal point of the entire production. Throughout the play, Atticus repeatedly tells his children that you don't really know someone until you've crawled around in their skin for a while, and he tries to teach them to take a stand against the evil that is racial injustice. Nearly sixty years after the book was written, these messages are still prominent in our daily lives.