Finale to the Fall Sports Season
Hang on for a minute...we're trying to find some more stories you might like.
As the winter sports started with the first snowfall of the season, the fall sports teams gathered for the annual Award Dinner to commemorate the teams and end of their eventful seasons. Organized by Maroon and White, athletes, coaches and parents arrived for dinner on Wednesday, November 14th at Mulino's in Lake Isle. The teams comprised of cheerleading, cross country, field hockey, football, soccer, swimming, and volleyball.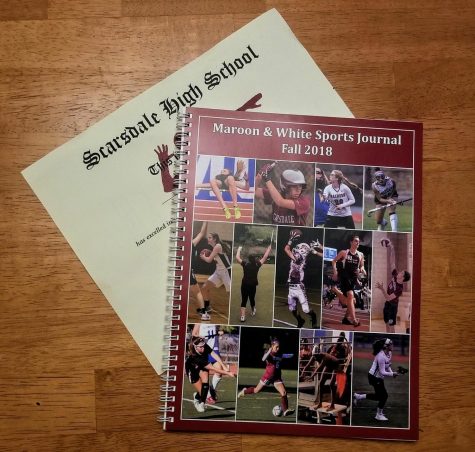 While the attendees enjoyed drinks along with salad, chicken parmesan and penne alla vodka, each team received time on the speaking podium. Coaches started by congratulating their team and detailing highlights of the season. Then, individual athletes were called up, each receiving a certificate and a pin. Senior captains thanked their coaches, and some groups ended by announcing athletic awards and the next season's captains. For the athletes, the most memorable moments of the night were recounting highlights and how much their teams bonded over the course of the season. "I liked how we got to get a last moment with the seniors. Usually during the season we'd have team dinners, so [tonight] was like the final team dinner. And it was good to see what the other teams accomplished," remarked Patrick Artes '20, a member of the boy's varsity soccer team.
To shorten the length of the ceremony and give Scarsdale students time to do schoolwork, the teams were separated into pairs or triplets in different rooms. Overall, athough the event still seemed long at moments, attendees went home having enjoyed a nice close to the fall sports season.