We've Been Banksy-ed!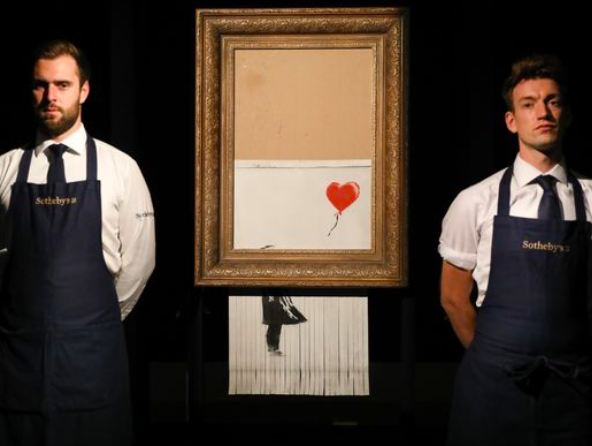 Hang on for a minute...we're trying to find some more stories you might like.
Everything seemed to be going smoothly at Sotheby's in London on October 5, 2018. The auction house was filled to the brim with art-lovers, and Banksy's painting "Girl With Balloon" had just been sold for a whopping $1.4 million. However, the contented atmosphere was abruptly interrupted by a small whirring sound as the painting slowly began shredding itself, much to the awe of the surrounding onlookers. The painting slid down within the frame and was carved into several strips, confusing the many auction-goers as they gazed upon the piece of art which had seemingly self-destructed. To quote Sotheby's itself, they had been "Banksy-ed."
Banksy is a world-renowned British street and political artist, best known for utilizing the medium of graffiti to portray meaningful and often controversial messages to his audience. Despite his immense fame, Banksy is anonymous, and the question of his identity has always mystified the masses. In fact, after the painting's self-destruction, many immediately began speculating that Banksy was within the auction room at the time of the incident. Some even speculate that he was the middle-aged man who had been escorted out of the room shortly after the painting had been destroyed.
Whoever he is, Banksy's message is clear. On Instagram, he published a video of the painting self-destructing, quoting Picasso by writing, "The urge to destroy is also a creative urge." Later, he posted another video showing the process from a few years ago in which he had hidden a remote-controlled shredder within the frame of the painting "in case it was ever put up for auction." Many have praised Banksy for his actions in what they perceive as him expressing his disdain towards the materialistic, wealth-centered ways of the art world where paintings, such as Banksy's, are continuously sold for upwards of one million dollars. Banksy began his career creating free graffiti available for the general public to view and interpret, and it is evident that he wants to continue. We can only imagine what tricks he has in store in the future.