Boys' Volleyball Scores First Win Against Eastchester
October 23, 2018
Scarsdale Boys' Volleyball got its first win of the season against Eastchester on Wednesday October 10. Although the team had lost to Eastchester in an earlier five-set match, Scarsdale won 3-1 this time. The sets were 19-25, 25-21, 25-22, and 25-23. Some outstanding players in the game included Eitan Altman '19 with eleven kills and four blocks, Jack Mintzer '20 with nine kills, and David Umansky '19 and Dorji Phuntsho '20 with five kills each.
Although the first set started off with service errors and erratic ball hits, the Raiders bounced back in the next three sets. Notably, Gustavo de Maura '21, succeeded in setting the hitters and Phuntsho, a new player from Thailand, succeeded in serving a total of eight aces. The back row also played well, especially the libero, Andy Cohen '19. Cohen is playing boys' volleyball for the first year, but is already digging spikes and passing to the setter at a high level. This win cements Scarsdale as one of the top two teams in Westchester. "Our win also legitimizes Scarsdale Boys' Volleyball as a real contender to the section finals. Our team needed this win to get ourselves in the right mindset before the playoffs—now everyone's confidence is rising," explained Altman.
Now, the boys are preparing for upcoming games against Rockland, a school whose boys' volleyball program has been running for over a decade. Although this year marks only the third season of Scarsdale's boys' program, the goal is to beat one of those teams this year. The team is hopeful, especially under superb leadership. "Charlie Quill and Sam Hoffman have been invaluable to the team. They consistently help the younger players improve in practice and motivate the team to compete against top-tier opponents," added Altman.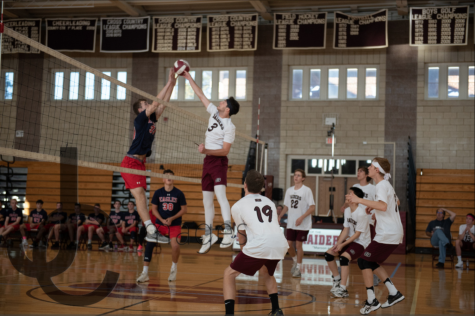 (Source: JC Images)