Flavors of Spring
Hang on for a minute...we're trying to find some more stories you might like.
Is the cold, dreary weather getting to you? Although these lingering winter vibes have impeded on the deliciously sunny days of spring, don't let this discourage you. We have collected our favorite seasonal recipes, sweet and savory, to get you back into that spring mood again!
Lemon-Ricotta Pancakes
Fill your tastebuds with the tangy taste of lemon and the smooth, rich texture of ricotta cheese.
In every bite of these pancakes, you can taste the flavors of this season.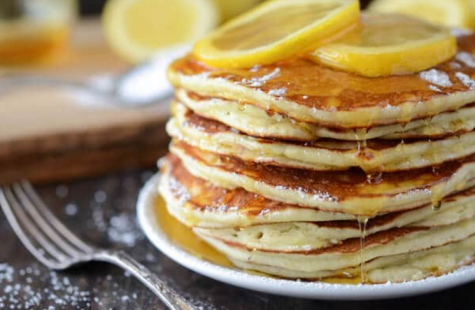 Ingredients
2 cups ricotta cheese
2 cups mixed fresh berries
1/3 cup plus 4 tablespoons sugar, divided
2 tablespoons fresh lemon juice
1 1/2 cups all-purpose flour
1/2 cup chestnut flour
2 tablespoons baking powder
1/2 teaspoon kosher salt
  4 large eggs, separated
  2 tablespoons finely grated lemon zest
  1 1/2 cups whole milk    
 Melted unsalted butter for brushing
Yield: 4 servings
Directions:
Line a fine-mesh strainer with cheesecloth; set over a small bowl. Add ricotta to strainer and let drain for 15 minutes; set aside.
Gently combine berries, 1/3 cup sugar, and lemon juice in a medium bowl. Let macerate, tossing occasionally, until sugar dissolves and juices are released, about 15 minutes.
Whisk both flours, baking powder, and salt in a large bowl. Using an electric mixer, beat egg whites in a medium bowl until frothy. Gradually beat in 2 tablespoons sugar, beating until peaks form. Whisk the egg yolks, remaining 2 tablespoons sugar, and zest in another medium bowl to blend. Whisk in milk. Add the yolk mixture to dry ingredients; whisk just to blend. Add half of the egg white mixture; fold just to blend. Fold in ricotta, then remaining egg white mixture.
Heat a griddle or large heavy nonstick skillet over medium-low heat; brush with melted butter. Using scant 1/2 cup batter for each pancake and working in batches, ladle batter onto griddle and cook until bottom is golden brown, edges are dry, and bubbles form on top of pancake, about 1 1/2 minutes. Flip pancakes and cook until browned and just cooked through, about 1 minute. Transfer pancakes to plates. Serve with berries and their juices.
Chicken Piccata
Indulge in this perfectly seasoned, tender chicken breast, with a zesty lemon flavor that will leave the taste of spring lingering upon your tongue.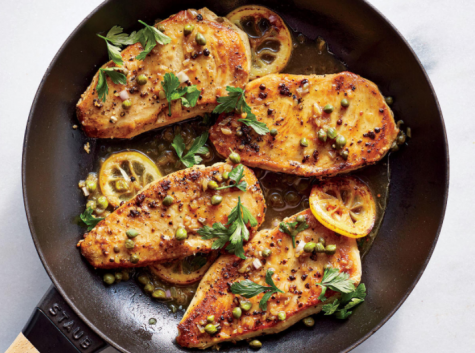 Ingredients
2 skinless, boneless chicken breasts, butterflied and then cut in half
sea salt and freshly ground black pepper
all-purpose flour, for dredging
6 tablespoons unsalted butter
5 tablespoons extra virgin olive oil
1/3 cup fresh lemon juice
1/2 cup chicken stock
1/4 cup brined capers, rinsed
1/3 cup fresh parsley, chopped
Directions:
Season chicken with salt and pepper. Dredge chicken in flour and shake off excess.
In a large skillet over medium high heat, melt 2 tablespoons of butter with 3 tablespoons olive oil. When butter and oil start to sizzle, add 2 pieces of chicken and cook for 3 minutes. When chicken is browned, flip and cook other side for 3 minutes. Remove and transfer to plate. Melt 2 more tablespoons butter and add another 2 tablespoons olive oil. When butter and oil start to sizzle, add the other 2 pieces of chicken and brown both sides in same manner. Remove pan from heat and add chicken to the plate.
Into the pan add the lemon juice, stock and capers. Return to stove and bring to boil, scraping up brown bits from the pan for extra flavor. Check for seasoning. Return all the chicken to the pan and simmer for 5 minutes. Remove chicken to platter. Add remaining 2 tablespoons butter to sauce and whisk vigorously. Pour sauce over chicken and garnish with parsley.
Lemon Bars
Tingle your taste buds with this lemony and tangy recipe. You can taste the bold flavors of sunshine and spring right on your plate!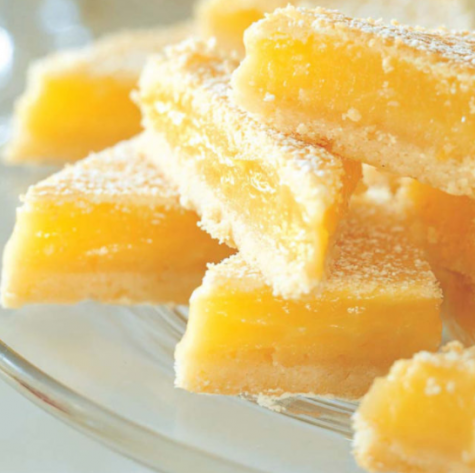 Ingredients
For the crust:
1/2 pound unsalted butter, at room temperature
1/2 cup granulated sugar
2 cups flour
1/8 teaspoon kosher salt
For the Filling:
6 extra-large eggs, at room temperature
3 cups granulated sugar
2 tablespoons grated lemon zest (4 to 6 lemons)
1 cup freshly squeezed lemon juice
1 cup flour
confectioners' sugar, for dusting
Directions:
Preheat the oven to 350° F.
For the crust, cream the butter and sugar in the bowl of an electric mixer fitted with the paddle attachment. Combine the flour and salt and, with the mixer on low, add to the butter until just mixed. Dump the dough onto a well-floured board and gather into a ball. Flatten the dough with floured hands and press it into a 9 X 13 X 2-inch baking sheet, building up a 1/2-inch edge on all sides. Chill.
Bake the crust for 15 to 20 minutes, until very lightly browned. Let cool on a wire rack. Leave the oven on.
For the filling, whisk together the eggs, sugar, lemon zest, lemon juice, and flour. Pour over the crust and bake for 30 to 35 minutes, until the filling is set. Let cool to room temperature.
Cut into triangles and dust with confectioners' sugar.
Strawberry Oatmeal Bars
Crunch into these tasty treats! Bring them on a hike on a warm spring day or pack them in a basket and enjoy a simple picnic at the park.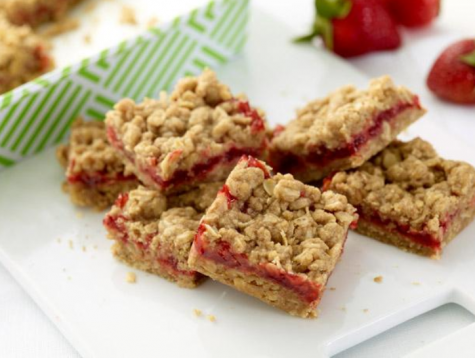 Ingredients
1 3/4 sticks salted butter, cut into pieces, plus more for greasing pan
1 1/2 cups all-purpose flour
1 1/2 cup oats
1 cup packed brown sugar
1 teaspoon baking powder
1/2 teaspoon salt
1- 10 to 12-ounce  jar of strawberry preserves
Yield: 24 servings
Directions:
Preheat the oven to 350° F. Butter a 9-by-13-inch rectangular pan.
Mix together the butter, flour, oats, brown sugar, baking powder and salt. Press half the oat mixture into the prepared pan. Spread with the strawberry preserves. Sprinkle the other half of the oat mixture over the top and pat lightly. Bake until light brown, 30 to 40 minutes. Let cool completely, and then cut into squares.
Spring Pizzas
Enjoy these crunchy delights that yield the sublime flavors of Spring. This pizza will melt in your mouth with its savory and zesty notes.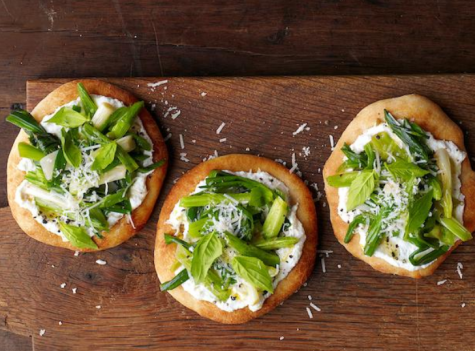 Ingredients
1 lb pizza dough
All-purpose flour, for dusting
2 tablespoons extra-virgin olive oil, plus more for brushing and drizzling
6 ounces ramps or scallions, trimmed
kosher salt
1 cup ricotta cheese
1 teaspoon grated lemon zest
coarse sea salt
coarsely ground black pepper
1/4 cup fresh basil leaves
        grated parmesan cheese, for topping
Yield: 4- 6-inch pizzas
Directions:
Preheat the oven to 500° F. Divide the dough into 4 pieces on a floured surface. Brush a baking sheet with olive oil. Stretch the dough into four 6-inch rounds; place on the baking sheet and bake until golden, about 12 minutes.
Heat a large skillet over medium heat. Toss the ramps or scallions with 1 tablespoon olive oil and season with kosher salt. Saute until just wilted, about 1 minute. Transfer to a cutting board and cut into pieces.
Mix the ricotta, lemon zest, the remaining 1 tablespoon olive oil and some sea salt and pepper in a bowl. Brush the crusts with olive oil (this will protect them from getting soggy), then spread with the ricotta mixture and season with sea salt. Top with the ramps or scallions. Return to the oven until warmed through, about 2 minutes.
Top the pizzas with basil, parmesan and a drizzle of olive oil.
Strawberry Ice Cream
Grab a big spoon and dig into this delicious, fresh treat. Refreshing and creamy with the tart flavors of strawberries, this ice cream is perfect for those sunny days outside after a spring family BBQ.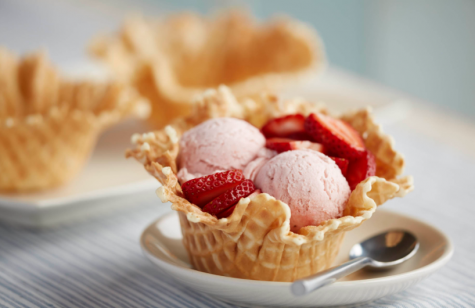 Ingredients
3 cups half-and-half
2 cups plus 2 tablespoons sugar
1 vanilla bean (or 1 teaspoon vanilla extract)
9 large egg yolks
3 cups heavy cream
1 pound strawberries, hulled, plus extra for serving
Yield: 16 servings
Directions:
Special equipment: an ice cream maker
Stir together the half-and-half and 2 cups of the sugar in a medium saucepan over medium-low heat. Split the vanilla bean, scrape out the caviar and add it to the mixture (or add the vanilla extract). Heat the mixture until it's hot but not simmering or boiling.
In a large bowl, beat the egg yolks vigorously with a whisk until they start to lighten in color, about 2 minutes.
Next, grab a ladle of the hot half-and-half mixture and very slowly drizzle it into the bowl with the egg yolks, whisking the whole time. (The purpose of this is to temper the egg yolks and bring them to a good temperature before adding them to the pan.) Repeat with a second ladle of hot half-and-half mixture, making sure to whisk the whole time.
Pour the tempered yolks into the saucepan with the rest of the half-and-half mixture and stir gently with a wooden spoon, cooking it slowly, until it's thick enough to coat the spoon, 2 to 4 minutes.
Set a fine-mesh strainer over a clean bowl. Pour the thick half-and-half liquid through the strainer into the bowl. Add the heavy cream and stir gently to combine. Refrigerate this mixture until chilled, about 2 hours.
Meanwhile, combine the strawberries and remaining 2 tablespoons sugar in a blender. Puree until smooth (or you can stop just short of smooth if you want a little texture). Pour the pureed strawberries into the chilled custard mixture and stir.
Now pour this mixture into your ice cream maker and freeze it according to the manufacturer's directions. Depending on the size of your machine, you may need to do this in 2 batches. Transfer to a freezer-safe container and place in the freezer until frozen firm, at least 4 hours.