SHS Drama Club KILLS it with The Crimson House Murder
Hang on for a minute...we're trying to find some more stories you might like.
The Scarsdale High School Drama Club impressed once again with its third production of the year, The Crimson House Murder, on March 24.  
This hilarious play tells the story of an excessively overpriced and suspicious hotel, known as the Crimson House, which provides terrible service to its residents. The Crimson House is home to many strange and different people who all appear to get along. However, when two murders take place at the hotel, a famous Hoboken detective's son, Hercules Porridge Junior, is forced to take on the challenge of solving the murders while his father decides is on vacation. Despite his non-existent experience with detective work, Hercules Junior is able to solve the mysteries through his use of excellent common sense and eavesdropping skills.
This production was not only well done, but it was also successful in captivating the audience with comedy. The jokes were spot on—the giggling baby in the front row of the theater agreed as well. The stage scenery was attractive and set the scene well. The special effects and flickering stage lights enhanced the suspense and made the play even more exciting.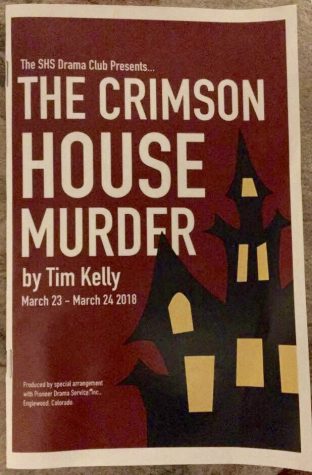 However, the success of the show was mostly because of the acting abilities of the cast members. Everyone did a fantastic job of bringing their character to life, whether it was acting as the crotchety old Crimson House lady, Rebecca Fitzwilliam, or as the crazy next door neighbor, Colonel Chutney, or even the inexperienced detective, Hercules Porridge Junior. The comedy of the play was emphasized by the incredible talent of the actors and actresses of this production, and I do not think there could have been a better cast.