Gun Policies Under Challenge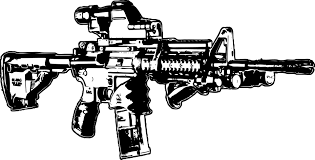 Hang on for a minute...we're trying to find some more stories you might like.
On February 28th, both Walmart and Dick's Sporting Goods, the nation's two largest gun retailers, announced their stores were restricting the sale of firearms to individuals over the age of 21.  In addition, Walmart stated that it will stop the sale of items that resemble firearms, such as toy guns.  Dick's will also discontinue the sale of high-capacity magazines, an ammunition storage and feeding device attached to a repeating firearm that can contain more than seven rounds, or be readily converted to hold ten rounds of ammunition.  Under federal law, a person must be at least 21 to buy a handgun from a firearm dealer; however, 18-year-olds can buy semi-automatic rifles and other firearms.
These retailers have changed their policies in response to the school shootings that have occurred recently, notably the tragedy at Marjory Stoneman Douglas High School in Parkland, Florida on February 18.  The Parkland shooter, 19-year-old Nikolas Cruz, had purchased his firearm at Dick's.
Additionally, a number of major companies, such as Delta Air Lines, United Airlines and the First National Bank of Omaha, have publicly announced their support for decreasing the sale of firearms.  These corporations have announced their disassociation with the N.R.A., the National Rifle Association.  Companies associated with the N.R.A. give discounts to members of the organization, discounted airfare for example.
However, this month was not the first time that retailers have taken steps to further regulate the sale of firearms.  In 2015, Walmart stopped selling sport rifles like the AR-15, and in 2012 after the shooting at Sandy Hook Elementary School, Dick's removed assault-style rifles from its stores. Nevertheless, the change was only temporary, as Dick's started selling these firearms at Field & Stream, its hunting and outdoor recreation chain, several months later. 
Critics claim these moves are not enough to limit the frequency of gun violence in the United States.  NBC News reported that only 12% of AR-style rifles, the kind typically used in school shootings, sold each year are purchased from big-box retailers like Dick's and Walmart.  As a result, activists throughout the country are calling for stricter gun-control laws, and the federal government has responded.  On February 28, President Donald Trump called for comprehensive gun control, which includes raising the minimum age to buy any gun to 21, banning assault-type weapons, and conducting more thorough background checks that include mental health assessments and previous interactions with law enforcement.  The President contradicted himself on March 12, however, tweeting that there was insufficient political support for an increase in the gun purchase age, and that he was "watching court cases and rulings before acting."