H4H Gingerbread House Fundraiser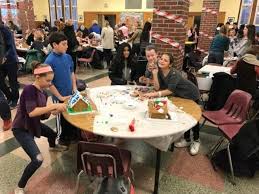 Hang on for a minute...we're trying to find some more stories you might like.
On Friday, December 8th, Scarsdale High School's Habitat for Humanity Club hosted their annual gingerbread house fundraiser. Starting from 2:00 in the afternoon on Friday, club members began building approximately 160 houses that had been previously sold. Families started to pile in at 4:00 and the sweet smell of candy and frosting filled the air. When walking into the cafeteria, it was as if you were transported into a winter wonderland. Decorations were hanging from the ceiling and walls and little kids covered in frosting were energetically running around on a sugar rush. "It is truly amazing to see our community come together and help other families who are not as fortunate as we are," remarked the Gingerbread officer for the club, Abigail Suzman '18. Habitat for Humanity is a global organization that builds housing for families who have either lost their homes or who are struggling to maintain their homes. Approximately 150 families attend this event every year and Habitat is able to turn a profit upwards of $2000 to donate to the Habitat for Humanity of Westchester branch.