Put the Ho-Ho-Ho into the Holidays: Best Holiday Movies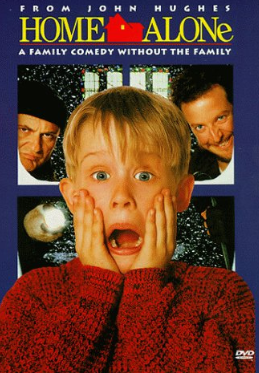 Hang on for a minute...we're trying to find some more stories you might like.
Everyone needs a little something to spice up the holidays and put them in a festive mood, and holiday movies are the quintessential remedy. Perfect for watching with friends and family, holiday movies are best enjoyed under a mountain of warm blankets and with hot cocoa. We compiled a list of our favorite holiday movies that will get you into the holiday spirit, enjoy!
Elf:
A holiday classic and a go-to movie on a snowy day,  Elf, starring Will Ferrell, is by far a fan favorite. Will Ferrell, raised as an elf in Santa's workshop, realizes that he's not like the other elves. With the revelation that he's human, he begins a journey to New York, spreading Christmas cheer and holiday spirit into the crevices of the cynical human world. Elf is a movie guaranteed to make you laugh, tug at your heart, and get you into a festive mood.
Home Alone:
Home Alone, starring Macaulay Culkin as Kevin McCallister, is a great movie to watch with friends and family and have a good laugh. During Christmas vacation, Kevin gets left behind as his family makes their way to the airport. Having the time of his life all alone in the house, his excitement soars even more when he realizes there are robbers attempting to break in and he has to prevent them from doing this. Home Alone is a work of festive art, and will put you into the holiday spirit as you laugh at Kevin's childish pranks and witty nature.
A Collection of Classics: Rudolph the Red Nosed Reindeer, Frosty the Snowman, and How the Grinch Stole Christmas!
An ode to every child's favorite Christmas characters, Rudolph the Red-Nosed Reindeer, Frosty the Snowman, and How the Grinch Stole Christmas! are movies that everyone watched as they were growing up. Everyone's favorite snowman, Frosty, came alive from a magic top hat placed atop his head. He would entrance the children with tales and songs, leading them around the town. Rudolph the Red-Nosed Reindeer also seems to put everyone in a festive mood. It's a touching tale of one different and rejected reindeer with a glowing red nose. Rudolph soon becomes Santa's favorite, because of his 'flawed' red nose, and the others accept him. In How the Grinch Stole Christmas!, the Grinch, whose evil and corrupted heart convinced him to steal Christmas, converts to a holiday-loving creature when he meets the innocent face of a child.
Miracle on 34th Street:
If you ever need a touching holiday movie to watch on a cold, snowy day, snuggled into mountains of blankets with a hot drink in hand, Miracle on 34th Street, starring Edmund Gwenn as Kris Kringle, is the way to go. A heart-wrenching tale of a kind-hearted man who replaces the usual drunken Santa during the Macy's Thanksgiving Parade. As he becomes a favorite to the shoppers, he begins to convince children he is the real Santa to inspire them. When he gets challenged by the original, intoxicated Santa, Kris Kringle is led into a court case, challenging his mental health.