Scarsdale's New Taco Spot: PopoJito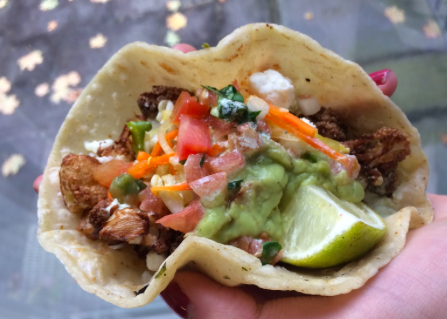 Sophia Hovakimian
November 22, 2017
Hang on for a minute...we're trying to find some more stories you might like.
Many residents of Scarsdale have been waiting for a fun, affordable new restaurant to spruce up the Scarsdale Village. The new taco restaurant on Christie Place, PopoJito, could be just what the village needs; this restaurant features Mexican cuisine with Mediterranean influences, and is 100% gluten-free. It is a lively, unique place that is perfect for eating out with friends or a quick stop to pick up lunch.
Upon arriving at PopoJito, I immediately took note of the relaxing, yet charming ambience. The restaurant appears sleek and modern from the outside, but more rustic on the inside. The decor is casual, but cool and reminiscent of a seaside restaurant. PopoJito's proximity to the Scarsdale train station should only attract more customers, and makes it a convenient location for students, families, and commuters going to and from work looking for a quick but delicious bite to eat.
The trendy atmosphere of PopoJito matches perfectly with the delicious food it offers; for a mouthwatering yet simple snack, the homemade chips coupled with the fresh guacamole or the spicy eggplant spread are the way to go— but they also offer ceviche, salads, and a selection of soups if you're seeking something lighter. The chips are lightly seasoned, which gives them a kick without being overpowering. However, the main events were definitely the tacos. The chicken and beef tacos were served with a variety of toppings and sauces such as salsa and fresh vegetables on a corn tortilla. Many aspects of Mediterranean cuisine, including feta cheese and spices, made the tacos unique but delicious. Although the beef tacos were my personal favorite, the roasted cauliflower taco was a good vegetarian alternative. Unfortunately, the churro was a slightly disappointing end to a great meal. It was served in a swirl shape, and was coated in brown sugar and topped with cinnamon whipped cream and fruit compote. While the churro itself was delicious, the excess of fruit was overpowering.
Ultimately, PopoJito is a great addition to Scarsdale, and adds a fun, unique aspect to the restaurants in the heart of the village while at the same time being affordable. The tacos were $4 per medium-sized taco, a fair price for a brand new restaurant in Scarsdale. PopoJito has the capacity to satisfy a variety of different customers, and it is sure to be a hot spot.