Best of Halloween 2017
Hang on for a minute...we're trying to find some more stories you might like.
Every year at Scarsdale High School, the senior class goes all out on Halloween, dressing up in crazy, creative costumes. Halloween is a day that is looked forward to by all the students of SHS, anxiously awaiting what the seniors will dress up as. "Halloween definitely lived up to my expectations. It was a great time to bond with the rest of my grade and see some really funny and cool costumes along the way. This is a day I certainly will remember forever!" commented Anna Levy '18. Here are some of our favorites from this year!
Trophies:
Wearing one of the most original costumes to date, seniors Sam Mancini, Anna DeNelsky, Alex Goldman, Aerin Cantor, Sydney Goldman, Sarah Kazan, Theresa Alarcon, Melissa Bravo, Ari Stonberg, and Kylie Jurman dressed up as trophies for Halloween. They each stood atop crates with various titles for their podiums including "heavyweight champ," "1st place," and "grand slam." Covering themselves entirely in gold paint, this group definitely took the gold.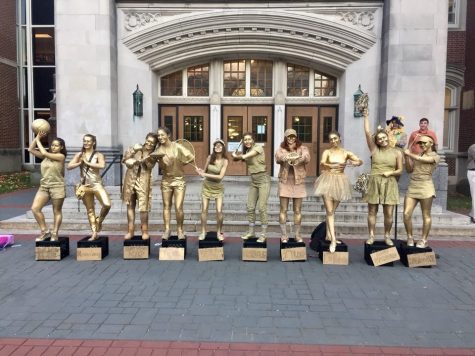 Traffic Cones:
Every Halloween, many different groups of boys wear full body, one-piece costumes. Blinding students with their bright orange color and blocking people in the hallways, the boys who dressed up as traffic cones definitely made a statement. The entire group consisted of Matt Greenberg, Daniel Goldstein, Marc Josephs, Eric Hansen, Brad Waterhouse, and Andrew Nussbaum. "I had a great time dressing up as a traffic cone this year.  What a fantastic, age-old tradition.  May it persist long into the future," remarked Marc Josephs '18.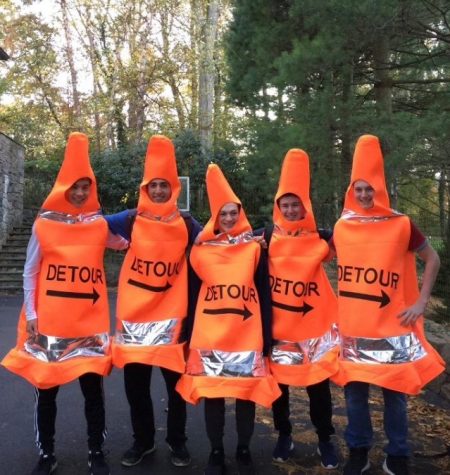 Creepy Jokers:
Seniors Dana Papandreadis, Anna Levy, Julia Levy, Emma Carnicelli, Sophie Hodges, Caroline Stemmerman, and Ally Losardo dressed up as creepy looking jokers. This costume was by far one of the scariest SHS has seen, with the intense makeup and the straight faces they maintained throughout the day. "Halloween was easily the best day of senior year so far. We were so happy with how our costumes came out and loved seeing everyone dressed up together! It's so cool how the whole grade comes together for something so huge," commented Dana Papandreadis '18.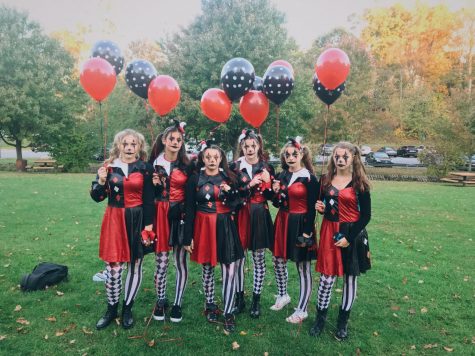 Comic Book Characters:
Appealing to Riverdale fans, seniors Chloe Faegenberg, Hannah Schmelkin, Hanna Eisenstein, Anna Rubin, and Courtney Swift showed their Halloween spirit dressed up as Comic Book pop art characters.  "I just wanted to do something really different that no one would expect," noted Schmelkin '18.  Their bright colors, dotted faces, headbands, and zany wigs stood out both in color and originality among the Senior class.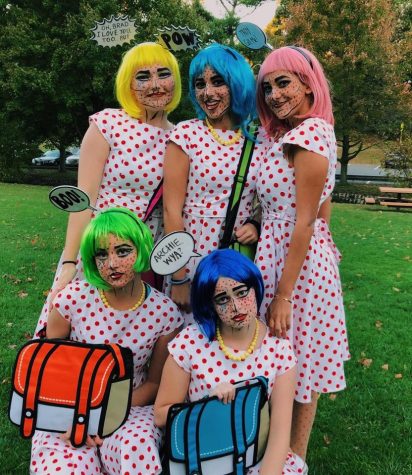 Elves:
It looks like Christmas came a little early this year! Seniors Jessica Nabi, Sydney Schweber, Sophie Kellner, Sloane Silverman, Coley Silberberg, Dani Jacob, and Alex Rossano came to school looking jolly and festive (even if it was the wrong holiday).  In keeping with the Halloween theme, the group passed out candy canes that they brought along to bring holiday spirit. "I picked this because I thought it was funny and would leave a lasting memory", shared Nabi '18.  It sure will– their colorful hats, pointy socks, and yummy treats I'm sure will be remembered for years to come!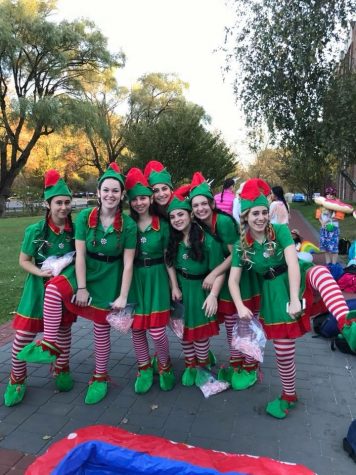 Snakes:
Cyprian Elwes, Sophie Cammarata, Talia Abbe, Nicole Lazar, Savannah Smith, and Izzy Plachter slithered into school on Tuesday looking like the best-dressed snakes this school has ever seen.  Their shiny suits, realistic scale makeup and piercing yellow eyes left all of SHS in awe.  It came as quite a shock to see their intricate costumes up close. "I couldn't tell what they were until I saw one up close and I almost screamed!" exclaimed Emmeline Berridge '19. You could say it left her pretty rattle(snake)d.