New Athletic Director, New Coaches?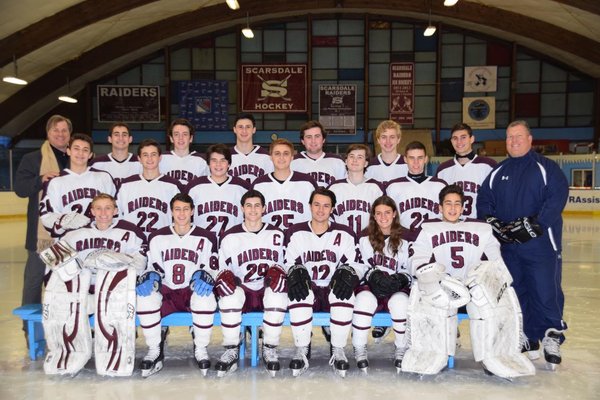 Hang on for a minute...we're trying to find some more stories you might like.
Athletic Director Ray Pappalardi, who joined the Scarsdale School System last year, has hired several new head coaches for varsity sports teams. So far, the only new coaches who have been announced are Kevin Carrigan and Kevin Wright, coaching softball and hockey, respectively.
Coach Kevin Carrigan was the assistant coach for Varsity softball for 15 years and is excited to have a more administrative role as the new head coach. Carrigan, who coached many of the players in elementary school, is eager to see what impact his new role will have on the already close-knit team. "It will be interesting how they deal with me in a different way. We're going from being an assistant coach where I can keep the light side, to now being the head coach where we need to make sure we stay on target. Hopefully, they will respect me from the beginning," said Carrigan. He is also looking forward to making the season enjoyable for all of the players while also focusing on improving his players' skills. "Any team you coach must be an extension of the classroom in some way, and we have got to understand that we have to instill commitment into our team. We have got to make sure that we are working on all of the softball mechanics, but also remember that it is a high school team and for all the players who play, they want to enjoy this to whatever extent they can," said Carrigan. The returning varsity players were surprised to hear that the news that there would be a new head coach but are open to the new ideas he will surely bring. "I am excited to see how Kevin will work with us to make us even better," noted captain Carolina Steinfeld '17. The softball team, following Carrigan's lead, is hoping to secure a successful, fun, and competitive season.
Unlike Carrigan, Wright is new to coaching the players of SHS varsity hockey. "[Wright] has coached ice hockey for kids at every level and played high school, club, and college hockey," commented Pappalardi. In order to be a public school coach, one must meet certain requirements: he must be able to perform First Aid and CPR/AED; participate in a Child Abuse Recognition Course, a School Violence Prevention Course, DASA training, and a course on concussions; and have fingerprinting. Wright worked diligently to receive all of the necessary certifications prior to receiving the job so that he would be ready for the start of the season. He is committed to aiding the team in the best possible ways and he has received positive feedback thus far. Despite the shock of the replacement of Coach Jim Mancuso, players on the SHS hockey team are giving Wright a chance. "Coach Wright brings new ideas and systems that seem to be working," said Martin McDonald '18.
Pappalardi has been working diligently to ensure that the new coaches he is hiring are qualified and committed. Thanks to Pappalardi's hard-work, the Raiders hope to see progress and victories as the season unfolds.
by Lily Steckel and Sydney Weinberg