Girls Lax Beats Mamo in Overtime
Hang on for a minute...we're trying to find some more stories you might like.
The girls' varsity lacrosse team had a huge overtime win over their rival, Mamaroneck, last week, making the team's record 6-0. It was the first time the girls' lacrosse team has beaten Mamaroneck in two years, making it an especially big accomplishment for the team. This game was extremely competitive and the Raiders went into it hungry for a win. Throughout the game, the lead was alternating between the two teams by only one or two goals, but the Raiders never gave up hope. "We played very hard and as a team throughout the entire game," said Erin Nicholas '17. Down two at halftime, the Raiders came out in the second half and won the first two draws, which was crucial to getting back into the game. Dominating the draw circle and scoring two goals within the first two minutes of the second half tied up the game, and gave the girls momentum to keep scoring and pushing the ball through the midfield. Down one goal with thirty seconds left in the game, Chessy Greenwald '19 scored to make it a tie game. "We worked well together as a team and kept the ball moving. I was so excited for the team and glad that I could do something to contribute," said Greenwald. The recent high school girls lacrosse rules now say that overtime is sudden death, meaning the first team to score wins. Filled with determination and intensity, the Raiders came out in overtime looking to take care of the ball and get a good shot off to win the game. Goalie Angie Burns '17 made some crucial saves in overtime and prevented Mamaroneck from scoring. "I felt really nervous going into overtime, but it was a good nervous. Everyone got really psyched up which alleviated a lot of the pressure we were all feeling," said Burns. With a couple minutes left in overtime, Nicholas '17 ripped a shot to give the Raiders a momentous win. "It was very exciting to score the goal and amazing to watch the team come together both during and after the game," remarked Nicholas. The girls' varsity lacrosse team is keeping up the hard work and is hoping to continue their success throughout the rest of the season.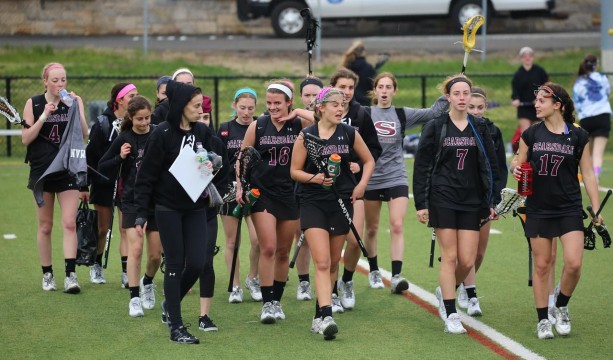 By Lily Steckel